Today we are continuing our look into Olympians for whom we believe to have identified their date of death but, for whatever reason, we are unable to connect the information, such as obituary or public record, conclusively to the athlete. This week, we are looking into Austria, a nation that happens to have three mysteries left for us to discuss.
Adam Bischof – Member of Austria's field hockey squad at the 1948 London Olympics
Like many Olympic field hockey players, there is very little that we know about Adam Bischof, born October 13, 1915, other than the fact that he was a member of the Austrian field hockey team that was eliminated in the preliminary round of the tournament at the 1948 London Olympics, after losing one game and tying two. Without information on his club, coupled with his not entirely uncommon name, we have been unable to uncover more details, although Viennese cemetery records indicate that an Adam Bischof died in September 1977 at the age of 62, which would have made him only one year older than he Olympian. Without further corroborating evidence, however, we cannot make a certain determination that this individual is the Olympian.
Walter Niederle – Member of Austria's field hockey squad at the 1948 London Olympics
Bischof's teammate Walter Niederle, born February 17, 1921, is equally mysterious. With a much less common name, one might suspect that information on Niederle would be easier to come across, but the best we could find is another Viennese cemetery record that listed a Walter Niederle as having died on November 28, 1962 at the age of 42. Although in this case the age aligns correctly with the Olympian, we still do not possess independent confirmation that the two are one and the same.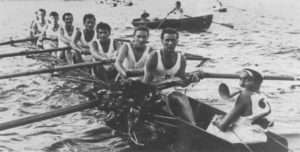 (Pictured as the individual furthest to the back whose face is visible, according to RV Albatros)
Theodor Obrietan – Member of Austria's coxed fours rowing squad at the 1948 London Olympics
Austria was represented by a team from RV Albatros, Klagenfurt in the coxed fours event at the 1948 London Olympics, where the squad was eliminated in the quarterfinals. There is little information on the team as a whole, with the only clue about the future lives of any of the members being a Find-A-Grave listing of a Theodor Obrietan who died in 2004 and was buried in Klagenfurt. Given the rarity of his name, we are fairly certain that this is the Olympian, although we cannot prove it with certainty without additional information.
https://www.findagrave.com/memorial/163231727
That is all we have for today, but we hope that you will join us next week, as we journey ever closer to the end of this series!