Today on Oldest Olympians we wanted to return to a more traditional type of post by looking at more competitors from the 1928 Olympics, both winter and summer. In particular, we wanted to raise the case of four representatives of Great Britain whom research has thus far been unable to identify with much certainty.
Thomas Skinner – Member of Great Britain's sailing delegation to the 1928 Amsterdam Olympics
Thomas Skinner was a crew member of the ship Feo, which competed in the 8 metres sailing class at the 1928 Amsterdam Games and placed seventh out of the eight teams in the regatta. All we know for certain is that he was a ship owner, and thus we suspect he may have been Sir Thomas Gordon Skinner, born December 29, 1899 in London and died November 22, 1972 in Cape Town, South Africa. Unfortunately, we have been unable to connect this individual to the Olympics for certain.
John Rogers – Member of Great Britain's ice hockey team at the 1928 St. Moritz Olympics
Goalkeeper John Rogers, born August 22, 1910, represented Great Britain in the ice hockey tournament at the 1928 St. Moritz Games, where the nation placed fourth. He also played with the national team at the 1929 World Championships and was probably a reserve on the 1930 and 1931 squads as well. Domestically, he played with the University of Oxford and the London Lions. We know more about him than the other three, as he was the son of a Liverpool cotton-broker who lived in South Africa. He married Mary Bailey, daughter of diamond tycoon Abe Bailey, and settled in South Africa. The couple's divorce in 1958 is the last trace we have of Rogers, and thus his subsequent fate is unknown.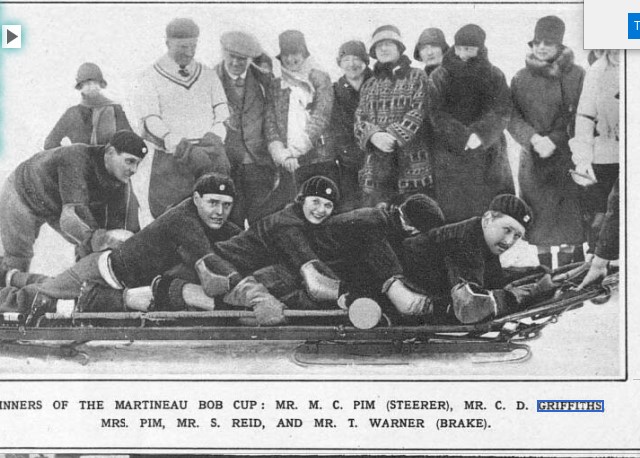 (C. D. Griffiths, with his head turned, in a 1927 photograph)
David Griffiths – Member of Great Britain's bobsled delegation to the 1928 St. Moritz Olympics
David Griffiths was a member of the Great Britain I bobsled team that placed 10th among 23 starters in the four/five man bobsled event at the 1928 St. Moritz Games. Newspapers occasionally listed him as C. D. Griffiths, which may mean that he was Charles David Griffiths, who was born March 29, 1898 and died January 16, 1963. Without further information, however, we cannot be sure.
John Gee – Member of Great Britain's bobsled delegation to the 1928 St. Moritz Olympics
John Gee was a member of the other British bobsled team at the 1928 St. Moritz Games, which placed slightly higher in ninth. The most mysterious competitor of the four, it seems that newspaper clippings about the event do not even mention him, and thus we have no clues to his possible identity.
On the subject of the 1928 St. Moritz Olympics, there are a few more mystery competitors that we have not yet covered on this blog, primarily because we know almost nothing about them. Rafael and Horacio Iglesias represented Argentina with the bobsled teams that placed fourth and fifth respectively in the four/five man. In that same event, Frenchman Michel Baur was on the 14th-placed French team and Ferdinand Langer was disqualified with the Austria 1 squad for having an incomplete team at a finish line. Finally, Frenchman Marcel Beraud competed in the Nordic combined event, but did not complete the 18 kilometer course.
That is all that we have for today, although we did want to share a link from Bill Shander, who used data from Olympedia to demonstrate some interesting results about age and the Olympics. You can check out his article here: https://billshander.com/dataviz/oldlympics