For today's blog, we wanted to take a break from our usual coverage of Olympic Mysteries and dip our toes into a subject that has been drawing attention as of late: the oldest African Olympians. Due to the fact that most African nations (with the major exceptions of Egypt and South Africa) did not get their start at the Games until after decolonization, it is not surprising that we know of very few living African Olympians over the age of 90, and not many more who reached that milestone in the past. Even for those who competed at the 1952 Helsinki Olympics, many survivors are simply too young.
Following the death of Nigeria's Karim Olowu, previously the oldest living African Olympian, we know of six living Olympians who represented an African nation. From Egypt, there is equestrian Mohamed Selim Zaki, born July 16, 1924, footballer Abdel Aziz Kabil, born March 14, 1927, and rower Ibrahim El-Attar, born February 22, 1928. From South Africa, there is rower Don Dyke-Wells, born February 13, 1924, and track and field athletes Abram van Heerden, born September 7, 1927, and Edna Maskell, born April 13, 1928. We have already profiled Zaki, Kabil, Dyke-Wells, and Maskell on Oldest Olympians, and we hope to cover the other two very soon.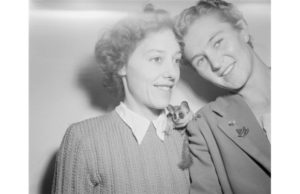 (Edna Maskell, left, pictured in the Vancouver Sun, during the 1954 British Empire Games)
Unfortunately, a greater share of African Olympians can be found on our "possibly living" list, because we have been unable to uncover information regarding whether they are alive or deceased. It is a sad fact that many of these great athletes fade into obscurity once the Games have ended and, as they are not known to be among the oldest Olympians, we generally do not profile them in depth on our site. From Egypt alone, we count 69 Olympians, including 3 medalists, potentially over the age of 90 for whom we cannot determine for certain whether they are alive or deceased, let alone when they died and what happened to them later in life (and that does even count those without a year of birth!). South Africa adds another 10 Olympians, including medalist Daphne Robb-Hasenjäger, whom we profiled recently.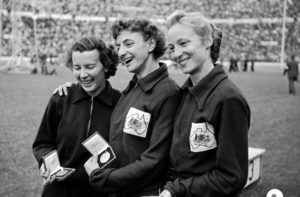 (Hasenjäger, pictured far left, in the Life Photo Collection)
African nations that have participated only since World War II, however, contribute their fair share as well. Morocco, which did not compete independently until 1960, leads this list with five Olympians. Ethiopia and Kenya, which debuted in 1956, and Sudan and Tunisia, which first participated in 1960, are not far behind with three each. Ghana, meanwhile, took part in the 1952 Helsinki Olympics as Gold Coast. Two of its track and field athletes from those Games, high jumper James Owoo, born December 16, 1927, and triple jumper William Laing, born January 3, 1929, may still be alive.
(James Owoo, pictured in the July 11, 1952 edition of Daily Graphic)
Uganda entered the Olympic scene in 1956, but its two possibly living oldest Olympians are boxers from the 1960 Rome Games. Frank Kisekka, born December 22, 1926, was a flyweight, while Peter Odhiambo, born October 14, 1927, was a middleweight. Zimbabwe, meanwhile, did not participate independently until the 1980 Moscow Olympics but, competing for Rhodesia, trap shooter John Richards, born October 12, 1928, finished 42nd out of 51 competitors at the 1964 Tokyo Games. And although Côte d'Ivoire made its Olympic debut that same year, it is one of its canoeists from the 1972 Munich Games, Daniel Sedji, born April 15, 1927, who makes our possibly living list as the lone entry from his country.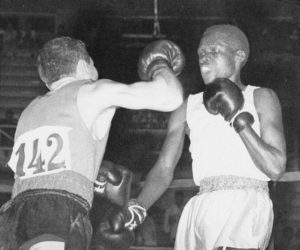 (Kisekka, right, at the 1960 Rome Olympics)
It is, of course, worth noting that just because these nations lie on the same continent, there should no assumption of homogeneity between them. Olowu, Zaki, and Dyke-Wells all come from very different background and nations with significantly different histories. Nonetheless, we find it a valuable exercise to highlight their contributions in a dedicated blog post, because we feel that the one thing they all have in common is that their nations are often overlooked in terms of global sport, whereas all other inhabited continents have at least one sporting powerhouse nation that is discussed routinely.