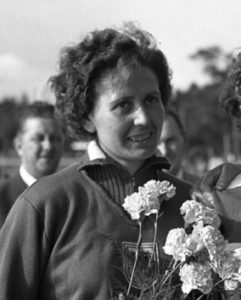 Recently we added Olympic bronze medal-wining wrestler Francisc Horvath of Romania to our list of medalists who, if alive, would be over the age of 90, but for whom no confirmation of their living status has been located. Our blog entry for today begins by suggesting another name for that list: kayaker Gertrude Liebhart of Austria, who took silver in the K-1 500 at the 1952 Helsinki Olympics. Several sources, however, list her as dying some time in October or November 2008, but we have been unable to confirm this; someone with this name was buried in Vienna on November 27 of that year, having died on October 31, but this person had a slightly different birthdate than the Olympian. Whatever the truth, Liebhart is not the only Olympic medalist for whom an unconfirmed date of death exists.
Jorge Alberto del Río – Silver medalist for Argentina in Dragon class sailing at the 1960 Rome Olympics
Related by marriage to the prominent Sieburger family of Olympic sailors, Jorge Alberto del Río of Argentina, born October 30, 1918, appeared in four editions of the Olympic Games: 1948, 1952, 1960, and 1964. He won his only medal, silver, in the Dragon class in 1960, although he came fourth in that same event in 1952. He also won the Pan American title in 1959. The Spanish Wikipedia lists him as having died in 2008, but we have seen no independent confirmation of this elsewhere.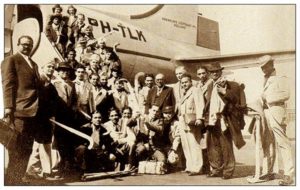 (Image of the 1948 Indian field hockey team from Sheetu Deep)
Reginald Rodrigues – Olympic champion for India in field hockey at the 1948 London Olympics
As one of the lesser-known players on India's gold medal-winning field hockey squad at the 1948 London Olympics, we do not have much concrete information on Reginald Rodrigues, born May 29, 1922. An anonymous editor on Wikipedia, however, claimed that he later moved to Canada, under the name of Reg Rodricks, and died in Montreal. We were able to find a notice that suggested that someone by that name died prior to 2004 in Quebec, but without any evidence to verify the original positing, the trail leads to a dead end.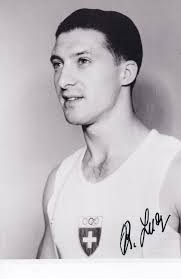 (Image from Pic De)
Robert Lucy – Silver medalist for Switzerland in gymnastics at the 1948 London Olympics
Despite being able to locate a picture, the only information we have on Robert Lucy, born February 20, 1923, is that he won a silver medal with the Swiss squad in gymnastics' team all-around event at the 1948 London Olympics. An anonymous Wikipedia editor added a date of death of December 23, 2009 to his English-language page but, perhaps because of his common name, we have been unable to confirm this information.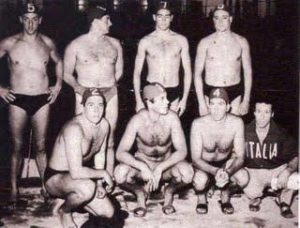 (Image of the 1952 Italian water polo team from H2Opolo.be)
Renato Traiola – Bronze medalist for Italy in water polo at the 1952 Helsinki Olympics
As with our other Olympians today, we have very little information on Italian water polo player Renato Traiola, born December 19, 1924. A member of the Circolo Canottieri club of his native Napoli, he helped Italy win a bronze medal in the water polo tournament at the 1952 Helsinki Olympics. Several sources mention that he died January 18, 1988, but we have not seen any reliable sources to confirm this.
There are still plenty more Olympic mysteries to be had, and we are going to keep bringing them to you week by week. We thank you for stopping by today and hope that you'll join us again! We also want to send a special thank you to Ian Taylor, who uncovered an obituary for Josl Gstrein, whom we covered in a previous entry. Thanks to him, we were able to confirm that Gstrein died September 11, 1980. Another Olympic mystery solved!