Today on Oldest Olympians we wanted to highlight some great recent research from Connor Mah, who has expanded our biographical data on Swiss and Austrian Olympians significantly. While there are far too many names to cover in a single post, we wanted to highlight some of the updates that involve past Olympic mysteries that were featured on this blog.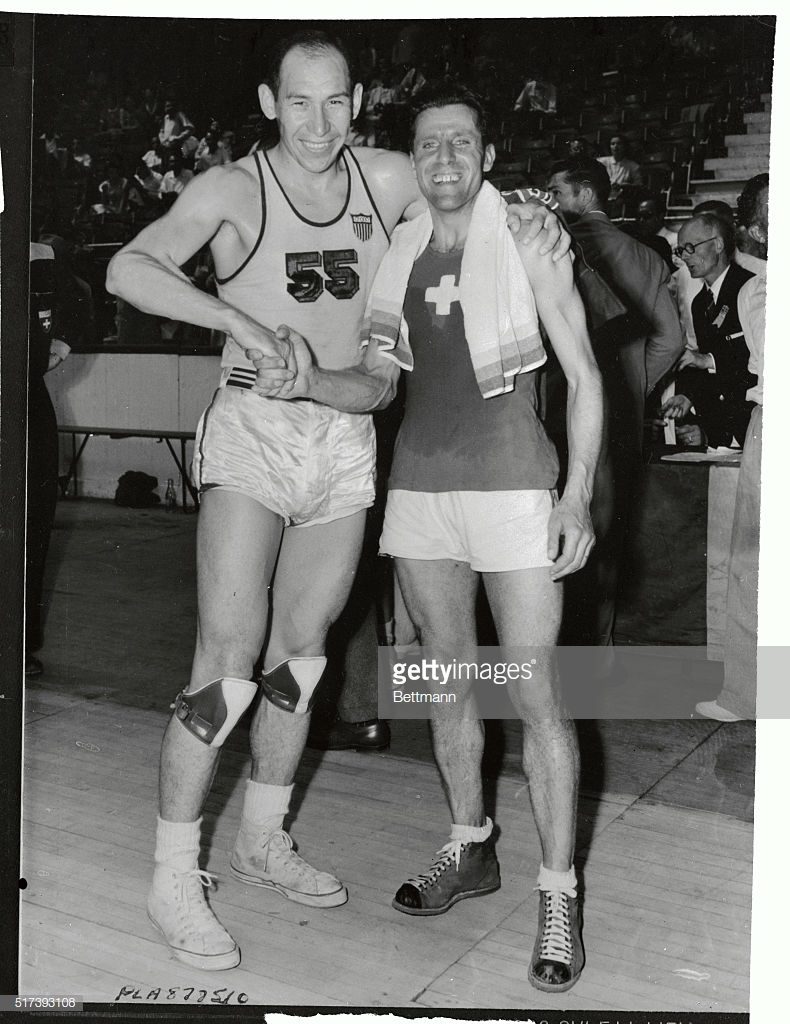 (Maurice Chollet, pictured on the right at Getty Images)
Starting with Switzerland, back in June Mah was able to confirm that the Hugo Vonlanthen who was listed as dying on April 28, 2009 was in fact the Olympic field hockey player. Then, earlier this month, he verified that the obituary for a Maurice Chollet who died February 22, 2017 was for the two-time Olympic basketball player. Most recently, he was able to confirm that the Kurt Bryner who died in Cape Verde in February 1984 was the two-time Olympic sailor.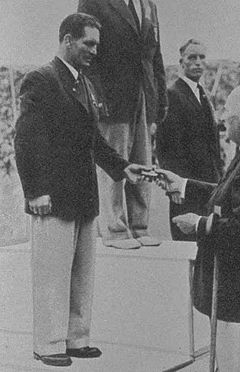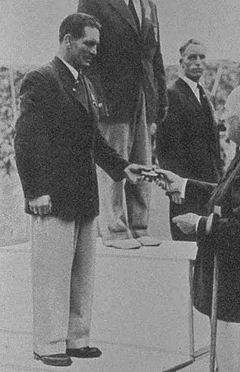 (Adolf Müller, with the moustache in the background)
In-between, Mah was also able to solve several other Swiss Olympic mysteries. Firstly, 1936 Olympic canoeist Rudolf Vilim did die in February 1959. The Wikipedia date of death of August 28, 2005 for field hockey player Roland Annen was also confirmed as correct. He also proved that the January 2017 obituary for a René Wohler was for the 1952 Olympic basketball player. Finally, he discovered that Adolf Müller, a wrestler who was one of our Olympic medal mysteries, died July 7, 2005.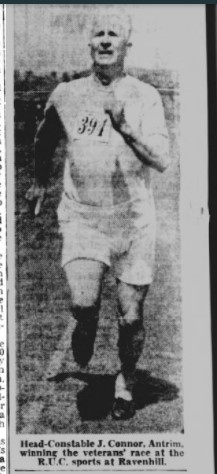 (John O'Connor, pictured in the Northern Whig, June 18, 1951)
We also have a handful of non-Swiss updates. From Austria, Mah was able to confirm that water polo player Sebastian Ploner, born May 27, 1907, did die in December 1981 as suggested by the Vienna cemetery index. From Ireland, with some help from Emma Edwards, we learned that athlete John O'Connor died October 10, 1977. From Italy, Adriano Brunelli verified that Wikipedia's date of death for Amedeo Banci, December 24, 2013, is correct. From El Salvador, we learned that sport shooter Tomás Vilanova did die in July 2007.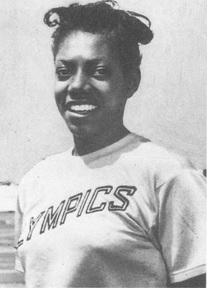 (Rosella Thorne pictured in "A Sporting Chance: Achievements of African-Canadian Athletes" by William Humber)
Finally, a few days ago we featured Canadian track and field athlete Rosella Thorne, a previous Olympic mystery born December 11, 1930, as our Olympian of the day based on information that she was still alive. Sadly, it turns out that she died April 16 at the age of 91.