As we have no updates to share on the subject of last week's blog, ski jumper Bob Lymburne, and with Canada Day being celebrated tomorrow, we thought that this week we would look into another Canadian Olympian whose mystery is much simpler: fencer Alf Horn.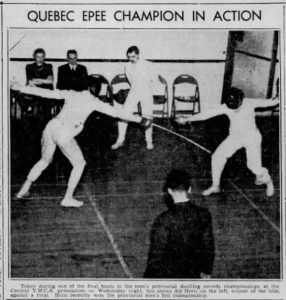 (Horn, left, pictured in the March 22, 1940 edition of the Montreal Gazette)
Horn was born in Norway on January 6, 1913, but moved to Canada at a young age and, after dabbling in track and field, focused his athletic talents in fencing. He was quite capable in this regard, and won several Quebec provincial championships across the disciplines. His biggest moment in the sport came when he was selected to represent Canada at the 1948 London Olympics, where he took part in every event except the individual sabre, but never advanced beyond the second round. His sporting career wound down after that, but he remained active in coaching and administration and, as late as December 1967, was mentioned among "well-known Montreal sportsmen":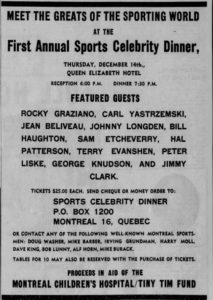 (Advertisement from the December 9, 1967 edition of the Montreal Gazette)
With this mention being the last evidence we have of him being alive, the mystery is simply this: what happened to Alf Horn after the 1960s? Of course, as we have covered, there are many Olympians, even well-known ones, that have simply disappeared from the record later in life, so this question in and of itself would not make him more mysterious than thousands of other Olympians. We were, however, able to locate one perplexing clue that makes his case worth discussing.
The above obituary appeared in the August 31, 1978 edition of the Montreal Gazette, but unfortunately does not provide any evidence that the individual listed was the Olympian. It mentions relatives, but no children, and we were unable to track his named brother and sister-in-law to uncover more clues. Finally, one piece of information that it does give, that the deceased individual was Jewish, does not align well with the Olympian's long-time affiliation with the YMCA, as the Montreal YMHA was also well-known for its sports programs and sent several basketball players to the 1948 Games.
We were able to locate the cemetery in which he was buried, the Baron de Hirsch Cemetery, but, unfortunately, his Find-A-Grave page offers no additional details beyond the obituary and does not include a picture of the grave. Still, there is nothing that disqualifies him from being the Olympian (the fencing program at the YMCA, for example, might have been better than the one at the YMHA, or the YMHA might have been too far away for him to travel routinely during his youth) and we could locate no other suitable obituaries. Thus, for now, it seems, Horn's later life will remain an Olympic mystery.