Today on Olympic Mysteries, we are revisiting an Olympian that we covered before, whose circumstances are truly deserving of the word "mystery": Robert Samuel "Bob" Lymburne. We were, unfortunately, unable as of yet to his resolve his case, but we did uncover further information that we feel is worth sharing.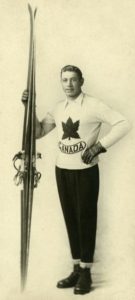 As we covered previously, Lymburne represented Canada in the ski jumping tournament at the 1932 Lake Placid Olympics. There, he placed 19th out of 34 starters in the normal hill. In the sporting world, however, he was more notable for his achievements outside of the Games. On March 13, 1932, he set a world record of 82 metres (269 feet) with a jump in Revelstoke, British Columbia. He lost his record in less than a year, but regained it in March 1933 with a jump of 87.5 metres (287 feet). Unfortunately, he suffered a severe head injury while skiing in 1935 and never competed again. According to the book Powder Pioneers:
"He is reported to have wandered off into the woods many years later and his body was never found."
We do not know the origins of this story, as the earliest version we could locate was in Powder Pioneers, written in 2005. Thus, we do not even know when his disappearance is alleged to have occurred or in which woods he vanished.
In regards to the first issue, we now have at least a little more clarification. Some sources list him as having disappeared in the 1930s, but we were able to locate numerous references to him being alive well after that. The latest mention we could find comes from The Province, a newspaper from Vancouver, which published a picture of him on March 11, 1957, leaving no ambiguity to the fact that he was still alive at the time: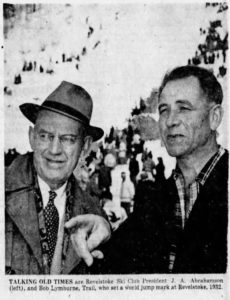 https://www.newspapers.com/clip/32659940/lymburne1957/
At the time, he was living in Trail, British Columbia, but online records for the province do not contain any documents relating to his death. What we did find, however, was his marriage registration from November 19, 1939, when he married Alice Luella Threatful: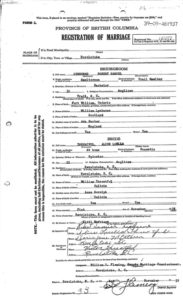 http://search-collections.royalbcmuseum.bc.ca/Image/Genealogy/3023df8d-d701-4cbe-8caf-89edc8cd4f74
Interestingly enough, his surname is listed on this document as "Lynburne", a spelling that occurred occasionally in newspaper accounts about his career, despite "Lymburne" being far more common. We were also hopeful that the discovery of a wife might have led to new family details. Unfortunately, Alice died less than a year after their marriage, with a record that also lists her surname as "Lynburne":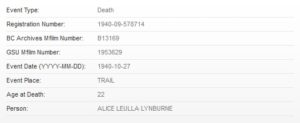 (Alice Luella Lynburne's death record at the archives of the Royal BC Museum)
Other family information led to even more questions, as the death certificates of both of his parents are listed under "Lymbourne". Adding to the confusion, two of his sisters, Mary and Sarah, have marriage registrations in the same records with the surname "Lymburne". In fact, on the death certificate for Harry Prestwich (mistakenly listed as "Prestwick" on his own marriage certificate!), Mary's husband, his wife's maiden name is spelled "Linburn". It was the name "Lymbourne", however, that provided more definitive clues, as features on the Lymbourne Family were featured in The Golden Star on July 12 and 19, 1978. In the article, it mentions that the two boys, Frederick and Bob, and are deceased: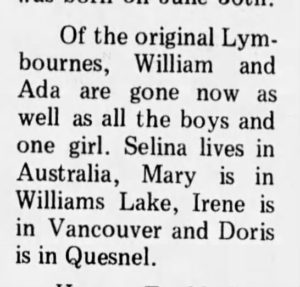 (Clipping from the July 19 article)
Frederick died December 20, 1970, with his death record listing Lymbourne, but there is no trace of Bob's death in the archives. Thus, this is where the trail in public records seems to go cold. We now know that Bob died between 1957 and 1978, but we could not locate a record of this in any public documents. If he disappeared in the woods, as is claimed, then it is possible that he was never declared dead officially, or that such a declaration took place in a different province or during a time where the British Columbia records remain sealed. That said, the earliest iteration of the "walked off" story we have seen is still from the 2005 Powder Pioneers mention, so we cannot even verify that that story is true. Our next step, therefore, will be to attempt to contact the author of that book, as well as some of the descendants of the Lymbourne siblings, in the hopes that we can move closer to solving this mystery. In the meantime, however, we thought that you our readers might enjoy an update to the progress being made in this case.