Today on Oldest Olympians we are looking at a mystery where we believe that we know all of the potential avenues for its resolution, but can only take a reasonable guess on which one is correct. It concerns Maurice Lefèbvre, a water polo player for the French national team who represented his country at two editions of the summer Olympics. This is about all that we can say about him with confidence.
According to the Olympic reports, a Maurice Lefèbvre represented France in the water polo tournaments at the 1936 Berlin and 1948 London Olympics, where the nation placed fourth and sixth respectively. The only other fact that we know about his life was that he was a member of Enfants de Neptune de Tourcoing and that all sources gives his year of birth as 1913.
Beyond this is where the questions arise: some sources have his date of birth as December 30, other have October 1. Some spell his surname Lefèbvre, others spell it Lefèvre. The French Swimming Federation added to the confusion by listing a Maurice Lefè(b)vre under both names, but only a year of birth. Under the Lefèbvre spelling, they listed a date of death of January 1, 2014, which would have made him 100 years old. Under the Lefèvre spelling, he was listed with a date of death of October 1, 2013, which would have made him 99.
Our best guess, therefore, was that information had been muddled somewhere and that "January 1, 2014" was a placeholder year signaling "deceased, date unknown" and that October 1, 2013 was the correct date. Recently, however, the French Swimming Federation merged the two entries together, and now the Olympian is listed under the spelling Lefèbvre with the January 1, 2014 date.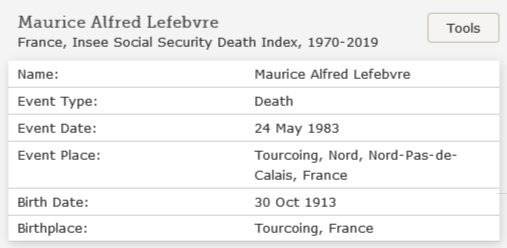 With the recent release of the French Death Index, we set out to solve this issue once and for all. Perhaps unsurprisingly, we did not find any Maurice Lefè(b)vre who died in 2013 or 2014 that would match the Olympian. There was, however, Maurice Alfred Lefèbvre born on October 30, 1913 in Tourcoing who died May 24, 1983 in Tourcoing.
This would seem to solve the mystery, as it combines all the data points we had into one likely suspect. Unfortunately, without a full obituary, we are unable to confirm that this is the Olympian. Nonetheless, since we see so much different information online regarding Lefèbvre, and particularly since most of that data points towards him being among the Oldest Olympians, we thought that we would gather it in one place so that readers could get a better sense of where it all comes from.