Today on Oldest Olympians we are completing our series on competitors with missing full names from the 1928 Amsterdam Olympics by looking into Belgium. Belgium had proven to be one of the more difficult European countries to track down information from, especially in the earlier editions of the Olympics. Thus there are a surprising nine Belgians for whom we are missing full names for from 1928: five members of their coxed eights squad, two weightlifters, one water polo player, and one sailor.
Starting with the last individual, the sailor known as A. J. J. Fridt was a member of the five-man 6-metre class crew at the Games, about each of whom we have varying degrees of information. Fridt is the only one missing a name, but we do know that he was a yacht owner from Antwerp, although this has not helped us identify him. The team finished fifth out of 13 nations. The water polo player, F. Bettens, won a bronze medal in that sport at the 1927 European Championships, but we still do not know his full name. In the Olympic tournament, the Belgians were eliminated in the quarter-finals. Of the weightlifters, we know a little more about V. Van Hamme, who was born c. 1897, as he had competed previously as a middleweight at the 1924 Paris Games. In 1928, however, he was a lightweight and placed 12th out of 18 entrants. Another entrant was his compatriot J. Adriaenssens, who failed to complete the competition.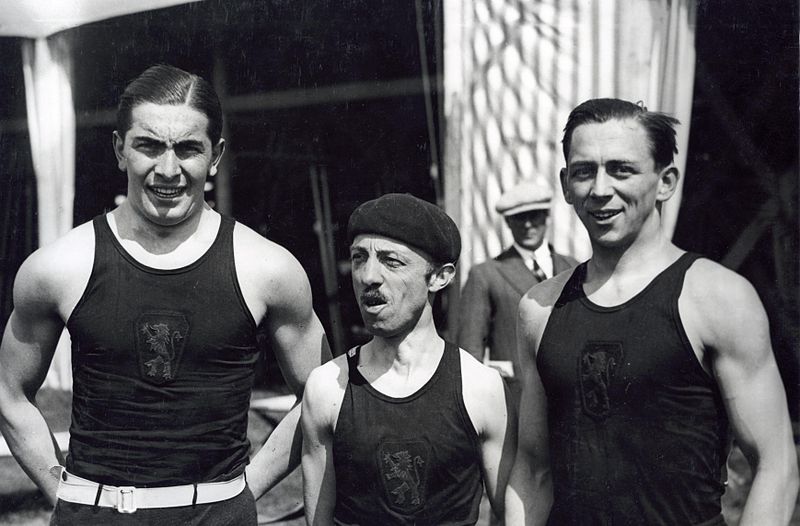 (George Anthony, pictured in the middle, who was one of the members of the Belgian coxed eights squad)
In terms of the Belgian coxed eights squad, we are missing full biographical data for the entire team, although we do know the full names of three of its members. For a fourth, J. Jonlet, we suspect that he may have been Jean-Marie Gerard Jonlet, born November 20, 1906 in Liège and died April 10, 1987 in Uccle, although we have not been able to confirm this. R. Macors may be Renier Macors, but this is just a guess based on limited evidence. For the other three, J. Van Malderen, H. Micha, and A. Lambrecht, Jr., we have little to say.
That concludes our rather brief look at the missing names from the 1928 Amsterdam Olympics. In the future, we may look at the 1924 Games, which has a similar cohort of unknown individuals, but we will also be bringing new topics to our weekly blog as well, so we hope that you will join us!