Today on Oldest Olympians we wanted to do a quick roundup of a handful of miscellaneous cases that merit a little more than a regular post, but a little less than their own blog entry. In that regard, today we wanted to present two removals from the list that have not yet been mentioned, and two cases that went under our radar, but just long enough ago that they do not meet the criteria for an independent post.

(Gavril Serfözö, pictured at Romanian Soccer)
In the former category, we first have Romanian footballer Gavril Serfözö, who in 2019 we featured as having recently turned 93 based on a source from 2011 that celebrated his 85th birthday. Serfözö, born September 25, 1926 (although we listed him previously as born on the 26th), represented his country in the tournament at the 1952 Helsinki Olympics, where Romania was eliminated in the qualifying round. With no updates since 2011, he was slated for removal next year but, thanks to a contributor on Wikipedia who sent us a death certificate, we learned that the original report we read had been in error and Serfözö died May 16, 2002 at the age of 75.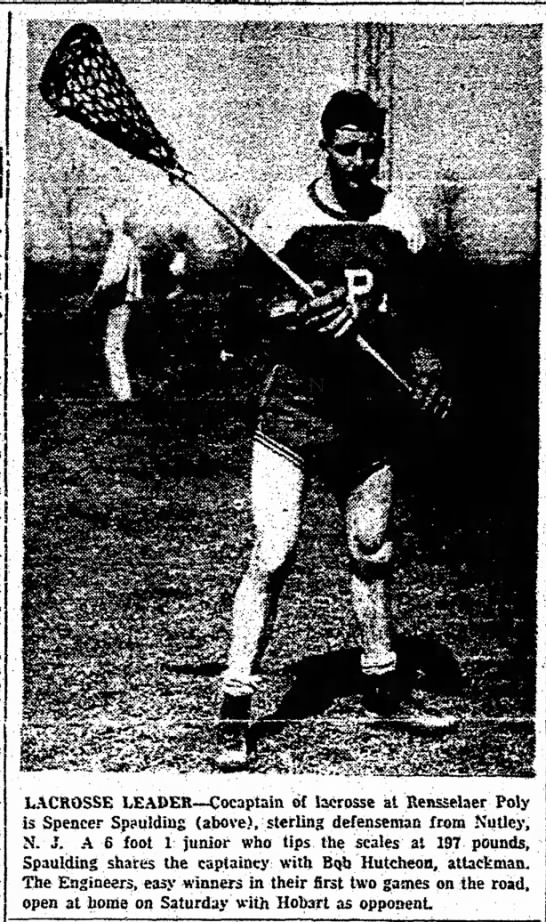 (Spencer Spaulding, pictured in the April 10, 1947 edition of The Times Record)
Next, at the end of 2018, we featured the case of American lacrosse player Spencer Spaulding, born December 27, 1926, who had represented the United States in the demonstration event at the 1948 London Olympics. There, his team from Rensselaer Polytechnic Institute tied an All-England squad 5-5. He held a doctorate in theoretical physics, had a distinguished career at RCA, and had just published a book of short stories the previous year, so we were much more confident that he was still alive than in Serfözö's case. Unfortunately, we learned from a blog comment via Connor Mah that he had died earlier in 2018, although we have been unable to locate an obituary or a family contact to confirm an exact date.
Finally, we wanted to end with two nonagenarian deaths pointed out by a user on Wikipedia, which occurred just outside the frame that we would normally announce them on Oldest Olympians, because they went beneath our radar. First, Charles Van Antwerpen, born June 10, 1925, who represented Belgium in rowing's coxless pairs and coxless fours events at the 1948 and 1952 Olympics respectively, died December 12, 2019 at the age of 94. He was a three-time medalist at the European Championships, including gold in the coxless fours in 1951. Secondly, Franz Frauneder, born December 6, 1927, who represented Austria in the coxed fours at the 1948 London Olympics, died July 9, 2020 at the age of 92.
We wanted to once again thank all of the contributors who have provided us with information that moves our research forward. That is what we have for this week, but next week we intend to look into more missing names from the 1928 Amsterdam Olympics, so we hope that you will join us!