Today on Oldest Olympians, we wanted to provide a post on an interesting case, that of Tun Maung, who represented Myanmar/Burma in weightlifting at three consecutive editions of the Games. Thanks to some excellent research by Connor Mah, we know a lot about him, yet still he remains an Olympic mystery.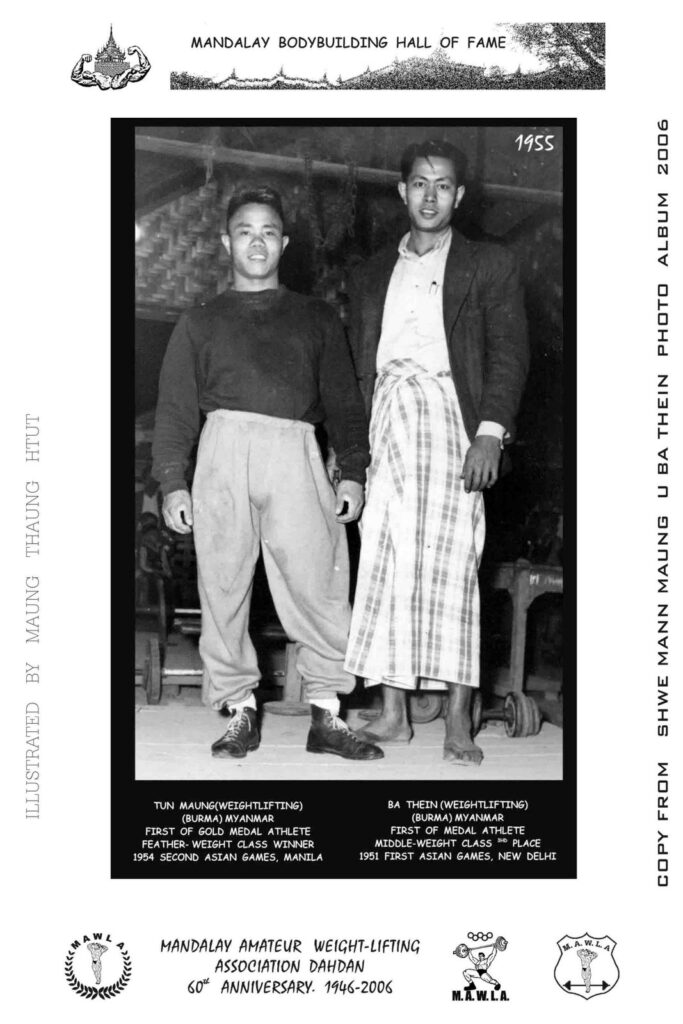 (Tun Maung, pictured on the left at the Mandalay Bodybuilding Hall of Fame)
Tun Maung, born September 30, 1931, got his start in international weightlifting at the 1951 Asian Games, and then attended the 1952 Helsinki Olympics as a featherweight, placing 14th out of 22 entrants. He won that division at the Asian Games in 1954, and took bronze at the World Championships that same year. In 1955 he switched to the lightweight category and was again third at the World Championships, before placing eighth at the 1956 Melbourne Olympics. He was later fourth at the 1958 Asian Games and failed to record a mark in the snatch at the 1960 Rome Olympics.
A member of the Burma Amateur Weight Lifting Federation, Tun Maung was also the runner-up to two-time American Olympic champion Tommy Kono in the 1954 Mr. Universe international bodybuilding competition held in Paris, and finished in third place at the Mr. Asia bodybuilding competition in 1951. By all accounts, he seems to have been one of most noteworthy strongmen from Burma in the 1950s.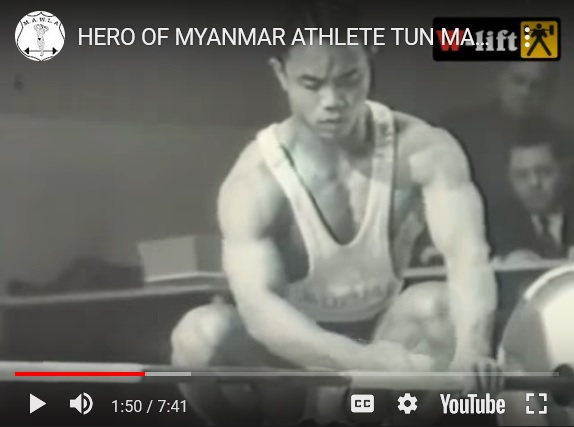 (Video footage of Maung begins at 1:49)
Aside from a few of the usual uncertain aspects, such as his year of birth, which is sometimes seen as 1928, and whether or not he is living, there are some additional mysteries surrounding Tun Maung. The first is his name, which is complicated by a Burmese naming system that does not follow western structures, can change over time, and is often complicated by indigenous honorifics such as "U" and "Bo", as well as foreign titles such as "Captain" and "Sergeant", all of which have been used to refer to Tun Maung. In some databases, he is listed as Nil Tun Maung, although it remains unclear as to whether "Nil" is part of his name or just a shorthand to indicate that he has no surname in the western sense.
A final complication is Tun Maung Kwye, born October 15, 1931 in the same place as the other Tun Maung. This individual was always a featherweight weightlifter: he was 14th and 7th in that division at the 1956 and 1960 Olympics respectively, and came in 5th at the 1958 Asian Games. What connection between the two, if any, is unclear but their similarities in date and place of birth, as well as weight classes and periods of activity, suggests that there might be some confusion in their results. At least one source claims that there were only two weightlifters at the Melbourne Games, which would indicate that the two Tun Maungs were one and the same and somehow competed in two different weight classes at the same Olympics.
Whatever the case, we hope that you have found this blog interesting and we will be back in a week with another topic. We hope that you will join us! We also wanted to point out one removal of an Olympian thanks to Mah's research that might have gone under the radar: Norwegian alpine skier Jack Nielsen, Jr., born October 7, 1923, died May 8, 2020 in Switzerland at the age of 96.