Our blog post for the day concerns a Canadian Olympian who, having been born in 1937, is a little younger than we might normally feature on Oldest Olympians. He was, however, forwarded to us by Connor Mah, who has been infinitely helpful in solving the cases of numerous Olympians, including many of those we have featured previously on this blog. Moreover, as we hope that you will agree, he certainly qualifies as an Olympic Mystery.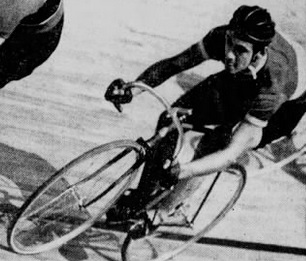 (Fred Markus, pictured in the July 3, 1954 edition of the Vancouver Sun)
Alfred H. Markus, born June 26, 1937, entered the Canadian cycling scene as a teenager in the early 1950s and first represented Canada internationally in 1956, before reaching the age of 20, at the Melbourne Olympics, failing to complete the road race and being eliminated in the round one repêchage.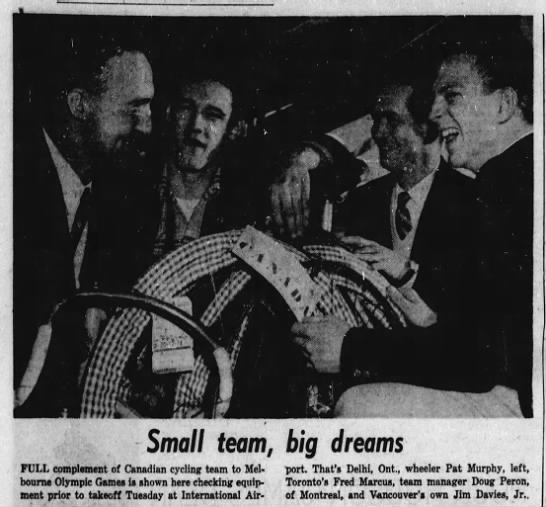 (Markus, second from left, on his way to the Olympics, as pictured in the November 14, 1956 edition of The Province)
Markus' next major stop was the 1958 British Empire and Commonwealth Games, where he was eighth in a field of 26 competitors in the 1 km time trial. He then travelled to the 1959 Pan-American Games, where he was 12th in the kilometre time trial and eliminated in the round one repêchage final. Nonetheless, he seemed to be entering the prime of his career, but it is here where he simply vanishes from the record.
Despite some thorough searches, Mah was unable to find any trace of his activities, sporting or otherwise, following this event, leaving us able only to speculate as to what might have happened. Some of the more likely events include him changing his name or moving to another country, but even these usually leave some trace. In fact, even during his career he seemed to be absent from Toronto City Directories, suggesting perhaps an issue with his surname. The best evidence that could be found was that he might have had some connection to Belgium, but even that is tenuous.
On perhaps a more positive note, Mah was able to solve the case of American gold medal-winning swimmer Eugene R. Rogers, born February 17, 1924, whom we profiled in an earlier blog. He was able to confirm through cemetery records that Rogers did in fact die on December 30, 2017.