Today Oldest Olympians is resuming its focus on individual athletes. In this case, we are raising the mystery of Egyptian fencer, Farid Abou-Shadi, and how he might have been confused with another similarly-named fencer of his era.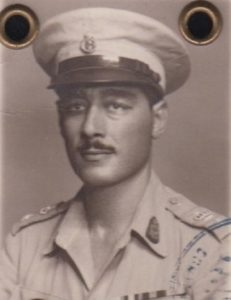 (Farid Abou-Shadi, the Olympian)
This is what we know for certain. A man by the name of Ahmed Farid Abou-Shadi, born November 28, 1909, from Shibin El Kom, represented Egypt twice in sabre fencing at the Olympic Games, in 1948 and 1952, in both the individual and team tournaments. He was eliminated in the opening round of each event, except for the team sabre in 1952, where the squad survived to the quarterfinals. This individual also won three bronze medals at the World Championships (team sabre in 1949 and 1950, and team foil in 1951) and a silver medal in team sabre at the inaugural Mediterranean Games in 1951. He was a member of Cairo's Cercle Royal d'Escrime and Haras Galalat Al-Malik (The King's Bodyguards). We do not know what happened to the Olympian after this, although, given his date of birth, he is certainly deceased.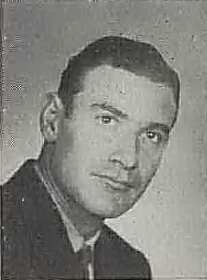 (M. Shafik Farid from the University of Texas Yearbook)
At the same time, however, there was another Egyptian fencer with a similar name active in sabre fencing. We first heard about him in the July 19, 1948 edition of the Egyptian Gazette, in an article titled "Egyptian Wins Sabre Tourney in Texas":
"Shafik Farid of Cairo, won the first annual W.A. Franks Memorial Sabre tournament in Texas. Farid attends the University of Texas but his home is in Cairo where he is a member of the Royal Fencing Academy. He scored four wins and one loss."
We then scanned through some old newspapers and discovered that his fencing exploits were covered eclectically in Texas newspapers. We learned that he founded a fencing club at the University shortly after his victory, that he had been fencing for approximately ten years as of 1947, that he was a member of the national Egyptian fencing team, that he was a graduate of Cairo University, and that his full name included an "M." among the initials.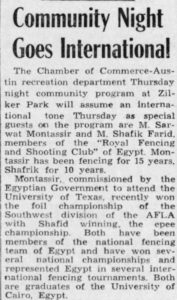 (Clipping from the August 14, 1947 Austin American, page 10)
It should be noted at this point that, despite the differences in name, "M. Shafik Farid" and "Farid Abou-Shadi" could indeed be the same individual. "Abou-Shadi" is an honorific, which, in Arabic, simply means "father of Shadi", so it is a reference to his status as a parent. Since Arabic names do not follow strictly the formula of "given name, family name", it would be entirely possible that "M. Shafik Farid" was known as "Farid, the Father of Shadi" once he had a son, but that in America he was known by his "legal" name. Many Egyptians also have multiple parts to their name, so the fact that Farid Abou-Shadi included the name "Ahmed" while Shafik Farid did not is not necessarily an indicator that they are different people.
Our next stop was contacting expert fencing historian and two-time Olympian George Masin with our findings to see if we could tease out any smoking guns that would connect these two individuals. He found information that a Mohamed Shafik Farid, born in Alexandria on November 30, 1920, was residing in Houston when he applied for US Citizenship in 1957 and changed his name to Steven Shafik Farid. Steven Farid was active in fencing in both Kansas and Texas during the 1960s, and had married Dorothy Rawls in 1953. He also provided a picture of Farid, who was a chemical engineering major, from the 1949 University of Texas Yearbook.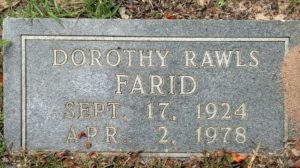 (Picture from Find-A-Grave)
Unfortunately, despite numerous references to his fencing career, neither of us were able to find any mention of his Olympic participation, with the closest clue being the note above that mentioned his membership in the Egyptian national team. His wife Dorothy died April 2, 1978 in Texas, but we were unable to find a record of Shafik's death. A Shafik B. Farid born November 20, 1929 died in Florida on November 8, 2010, but although this person had lived in Texas, the date of birth makes it unlikely that this was the fencer, as having 10 years of experience in 1947 would have required him to take up fencing at the age of eight. "Steve Fared", born November 30, 1920, was apparently living in Houston as of 2008, although these public records have noted deceased individuals incorrectly as living in the past.
Of course, if the Olympian and the Texas fencer were one and the same, then obviously there would be an error somewhere in the year of birth, as both were born in November on different dates and allegedly 10 years apart. Date of birth errors are common, so it is not outside the realm of possibility, but it is also worth noting that public records only acknowledge one son, Robert, and of course no wife other than Dorothy. So unless "Abou-Shadi" was an honorific for a non-biological son, or he left his previous family back in Egypt, it seems ultimately that all of this is just a confusing coincidence. Regardless, it demonstrates just how complicated matters can get when trying to decipher Olympic mysteries.