Today Oldest Olympians is continuing its inquiry into the subject of missing links from the year 1930, which looks at cases for whom we believed to have identified their date of death but, for whatever reason, we were unable to connect the information, such as obituary or public record, conclusively to the athlete. This month's series examines those who were born in 1930 and who would otherwise be the newest possibilities for our list of oldest living Olympians.
Louis Desmet – Member of the Belgian track and field delegation to the 1952 Helsinki Olympics
Louis Desmet, born January 5, 1930, competed in the 800 metres event at the 1952 Helsinki Games, but was eliminated in the round one heats. His international career seems to be fairly limited, making it difficult to find more information on him, but an anonymous user on the Dutch Wikipedia added a date of death of June 6, 2001 and a place of death of Anderlecht to his article. Unfortunately, they did not provide any sources and thus we are unable to confirm whether or not this information is accurate.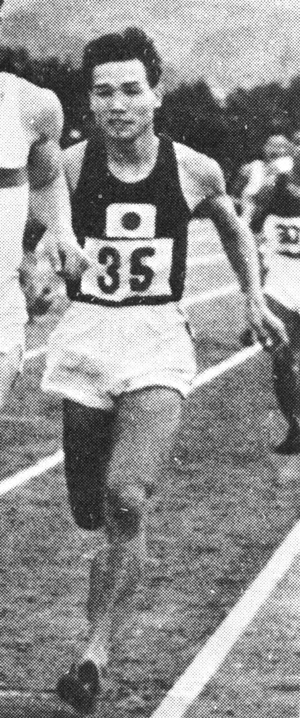 (Muroya pictured at the website of the Hakui High School Alumni Association)
Yoshitaka Muroya – Member of the Japanese track and field delegation to the 1952 and 1956 Summer Olympics
Yoshitaka Muroya, born April 6, 1930, competed in the same event as Desmet and experienced a similar result. Muroya, however, was much more prolific and also took part in the 4×400 metres relay in Helsinki, although he was eliminated in the opening round. He returned to the Games in 1956 in Melbourne, with the same result in the relay, but made it to the semifinals of the 800 metres. He was far more successful at the Asian Games: in 1954 he took gold in both events, as well as silver in the 1500 metres, an event in which he had been entered in Helsinki, but did not start. In 1958, he defended his titles in both events and later became a successful senior-level golfer. Japanese Wikipedia has a date of death for him of March 23, 2019, and even provides a link, but we were unable to verify the information on that website (or any other), and thus we cannot list him conclusively as having died on that date.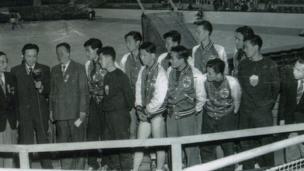 (The 1948 Chinese Olympic basketball team pictured in a BBC article)
Kya Iskyun – Member of the Chinese basketball team at the 1948 London Olympics
We do not know the exact date, or even year, of birth for Kya Iskyun, who represented China in the basketball tournament at the 1948 London Games, but he would be well within the range of being born c. 1930 given the date of the competition. Regardless, we know very little about him outside of his participation in the Games, where China finished 18th overall after winning three and losing two of its matches in its round-robin pool. The only information we do have comes from the Chinese Wikipedia, which claims that he died in 1989. Unfortunately, without a source provided, we have been unable to prove that this is the case.
We have a few more names remaining on our 1930-born list, so we will conclude this series next week with more Olympic missing links. We hope that you will join us!