Today on Oldest Olympians, we are going to continue our inquiry from last week into missing dates of death for Australian Olympians. There are nine individuals born before 1931 for whom we are missing a date of death and who are not known to be living (not 11 – we miscounted previously!). Last week, we looked at the five who are definitely deceased, but for whom we do not know the exact date. This week, we are looking at the remaining four, who may still be living.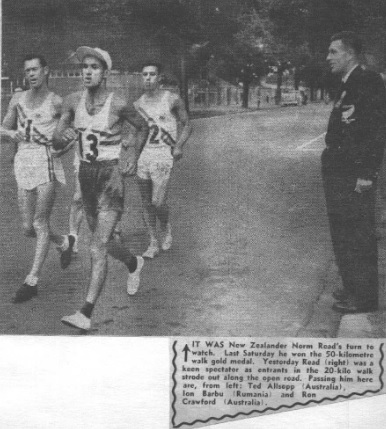 Ted Allsopp – Member of Australia's track delegations to the 1956 and 1964 Summer Olympics
Ted Allsopp, born August 15, 1926, represented Australia in three athletics events across two editions of the Games. In 1956 in Melbourne, he was 10th in the 20 km walk and also competed in the 50 km. In 1964 in Tokyo he was 17th in the 50 km. We actually know more about Ted Allsopp than almost any other individual featured as an Olympic mystery, thanks to this detailed biography from the Victorian Race Walking Club. Unfortunately, the one piece of information that eludes us is perhaps the most important one: whether or not he is still alive.

(Homemade Olympic canoeing paddle by Bryan Harper at the Australian Sports Museum)
Bryan Harper – Member of Australia's canoeing delegation to the 1956 Melbourne Olympics
Bryan Harper, born in 1927, represented Australia in two canoeing events at the 1956 Melbourne Games, placing seventh in the C-1 1000 and ninth in the C-1 10000. Although he was among his country's most prominent canoers, we have been unable to locate information about his later life, aside from the fact that he donated his homemade paddle that he used at the Olympics to the Australian Sports Museum around 1990, when he was possibly living in the Queensland region.
(Dave Stephens, pictured on the left, at the National Archives of Australia)
Dave Stephens – Member of Australia's track delegation to the 1956 Melbourne Olympics
As with Ted Allsopp, we know much about Dave "The Flying Milkman" Stephens, born November 11, 1928. At the 1956 Melbourne Games, he placed 20th in the 10,000 metres, but he had a more successful domestic career and later became a teacher, working in that profession at least through 1980. Unfortunately, while many sources continue to celebrate his achievements, none have been able to shed light on whether he is still living or what his date of death was.
(John Bryant, pictured in 2006 at Getty Images)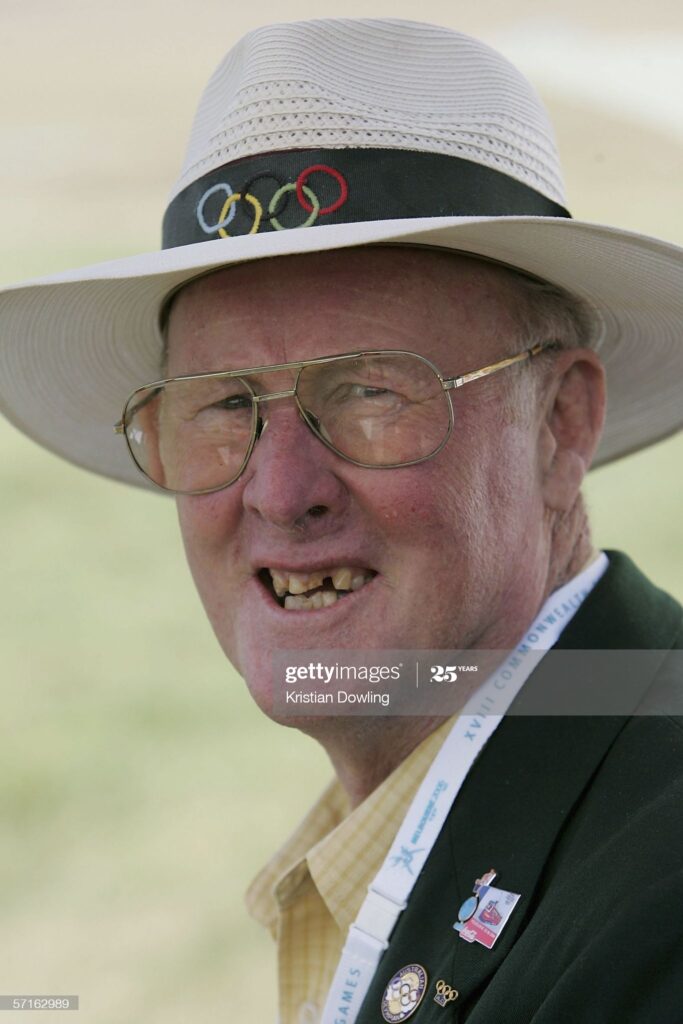 John Bryant – Member of Australia's shooting delegation to the 1956 Melbourne Olympics
John Bryant, born November 26, 1930, would be just a little too young to be considered among the oldest living Olympians were he still alive, but we want to feature him regardless. He represented Australia in the trap shooting competition at the 1956 Melbourne Games, where he placed ninth. Unfortunately, search results for him are clouded by the notorious Australian mass shooter Martin John Bryant, but we did learn that he was still alive and living in Melbourne in 2006. Unfortunately, this falls outside of the range for which we would consider an individual still living, so the quest for more information continues.
As mentioned above, we originally stated that there were 11 uncertain names, but we counted one name twice and missed the fact that another was still alive, which leaves us with nine Australian Olympic mysteries. Next week, we are going to move on to Canada and examine the Olympic mysteries that we have from that country. We hope that you will join us!