Today on Oldest Olympians, we wanted to update our readers on the Mohawk team that placed third in the lacrosse tournament at the 1904 St. Louis Games. This squad was not even widely known to have competed at the Olympics until 1981, when Bill Mallon rediscovered their roster and published it. At the time, both their Native American names and their English names were known, but for almost four decades, it was not known which of the former went with which of the latter. Since only their English names were recorded in archival documents (such as censuses and family trees), no personal information about any of these competitors was known.
Recently, however, members of the OlyMADMen were able to piece together the connections, and the English names of all the competitors are now listed on Olympedia (see here for the full roster). Thus the process of uncovering their biographical details could begin. We have managed to find at least some information on 7 of the 12 squad members, leaving five that have eluded us thus far: Almighty Voice (Jacob Jamieson), Flat Iron (Joe Clark), Night Hawk (Eli Martin), Snake Eater (Frank Seneca), and Lightfoot (Berman Snow).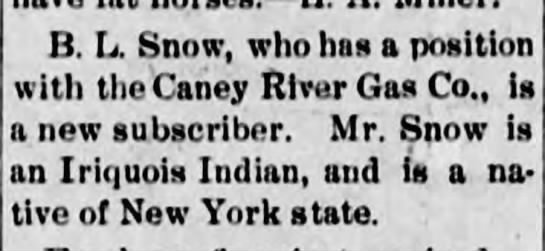 (Identification of B. L. Snow in Oklahoma)
Since this would not be a proper blog post without an Olympic mystery, we wanted to take a quick look at the last individual, Lightfoot. Researcher Taavi Kalju has suggested that Lightfoot might actually be Beman Lawrence Snow, who was born on the Cattaraugus Reservation in Erie, New York on January 18, 1877. This individual moved to Oklahoma in the mid-1900s to work in the oil and gas industry, and was identified as Iroquois. It is interesting to note, therefore, that he might have never lived in Canada, which would suggest that the Mohawk team in 1904 was actually mixed Canadian/American.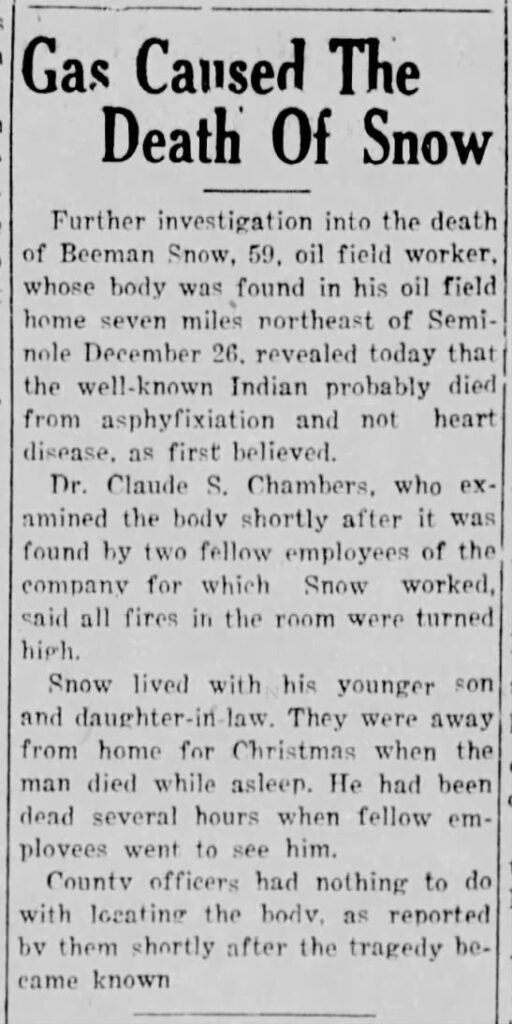 (Beeman Snow's obituary in the Seminole Producer, December 29, 1933, pg. 1)
Regardless, we were able to track Snow through historical records and uncover his obituary. It seems that Snow asphyxiated near Seminole, Oklahoma from a gas leak on December 26, 1933, aged 59 according to the obituary, but probably more likely only 56 based on birth records. Beeman married Rachel D. Green on June 12, 1907 and had three children: Laurence Wallace (May 13, 1909 – June 18, 1971), Howard William (born June 1, 1911), and Wayne Snow (born May 4, 1914). Rachel had an earlier son, O. L. Green, and seems to have divorced Snow and remarried at some point, as she is listed as Rachel Henry in later documents.

(Laurence W. Snow's obituary in The Daily Oklahoman, June 21, 1971, pg. 14)
Howard married Katie Marie McKinney on May 10, 1944, but beyond this we were not able to find any information about his later life. Similarly, for Wayne, we found no information about his descendants. Laurence married twice: once to Helen McCollum (born 1911) and later to Melba G.. Laurence's 1971 obituary lists O. L. Green and Wayne Snow as still alive, the latter living in Victorville, California, as well as two other siblings, Jack and Mrs. Dave Cornell, who are possibly children from his mother's later marriage. It also lists four biological children: Laurence Ray Snow (born June 28, 1939), Myrna Montgomery (March 2, 1932 – June 24, 2003), Edna Huntington (born 1931, deceased), and Patricia Haxell, as well as two stepsons: Newell and Harvey Wright.
And this is where our trail ends. We believe that Laurence Ray Snow is still alive in living in San Diego, but we have no means of contacting him to confirm whether or not his grandfather was the 1904 Olympian. We share this information, therefore, not only in the hopes of demonstrating the process that we undertake to identify Olympians, but also in the hopes that perhaps someone with more information will be able to help us solve this mystery.