Today Oldest Olympians is bringing you part two of its coverage of Olympic missing links with 1929 births. Today we are looking at three more Olympians for whom we believed to have identified their date of death but, for whatever reason, we were unable to connect the information, such as obituary or public record, conclusively to the athlete.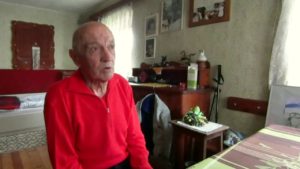 (Screen capture of Zdravko Hlebanja from a 2016 interview)
Zdravko Hlebanja – Member of Yugoslavia's cross-country skiing team at the 1956 Cortina d'Ampezzo Games
Zdravko Hlebanja, born October 15, 1929, was a well-known cross-country skier in Yugoslavia during the 1950s, but his most notable appearance came at the 1956 Cortina d'Ampezzo Olympics. There he finished 43rd and 42nd in the 15 and 30 km events respectively and was 13th with the national team in the 4×10 kilometers relay. Hlebanja gave an interview as recently as 2016, but the only notice of his death comes from the Slovenian Wikipedia, which lists it as March 9, 2018. Despite his recent activity, we have been unable to uncover further confirmation of this.
U Sang-Gwon – Member of South Korea's football team at the 1964 Tokyo Olympics
U Sang-Gwon, born December 22, 1929, also known as Woo Sang-kwon, was a regular player with the South Korean national football team during the 1950s and the 1960s, making an appearance at the 1964 Tokyo Olympics, in which his country was eliminated in the preliminary round. He also played in the 1954 World Cup, won Asian Cups in 1956 and 1960, and took home silver from the football tournament at the 1958 Asian Games. He later had a coaching career, including a brief stint with the South Korean national team from 1970 through 1971. Both the Korean and English Wikipedias list him as having been born February 2, 1926 and dying December 13, 1975, but we have found no reliable sources to verify this information.
Javier Souza – Member of Mexico's track and field delegation to the 1952 Helsinki Olympics
Track and field athlete Javier Souza, born November 13, 1929, represented Mexico at the 1952 Helsinki Olympics, where he was eliminated in the opening rounds of both the 100 and 400 metres events. He had more success at other tournaments, however, winning bronze medals in the 4×100 metres relay at both the 1954 Central American and Caribbean Games and the 1955 Pan American Games. We know less about his post-sporting life, although we did find a public record entry that lists a man with the athlete's full name, Javier Souza Díaz, born c. 1930, dying on January 7, 2005. Without any additional details or an obituary, however, we cannot confirm that this record is for the Olympian.
And that is it for our quick look into Olympic missing links from 1929! Now that we are caught up with our blogging, we will be moving back to the once-a-week format, so tune in next week as we continue exploring Olympic mysteries; we hope you will join us!