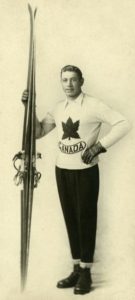 Today on Olympic Mysteries, we are looking at an Olympian whose circumstances are truly deserving of the word "mystery". Our subject for the day is Robert Samuel "Bob" Lymburne, who represented Canada in the ski jumping tournament at the 1932 Lake Placid Olympics. There, he placed 19th out of 34 starters in the normal hill.
Lymburne had begun competing at the national level in 1927, but he did not attract widespread attention until after his Olympic appearance. On March 13, 1932, a month after competing at the Games, he set a world ski jumping record of 82 metres (269 feet) with a jump in Revelstoke, British Columbia. Lymburne lost his record in less than a year, but regained it in March 1933 with a jump of 87.5 metres (287 feet), and this one lasted until March 25, 1934, when it was bested by Norwegian Olympic champion Birger Ruud.
Lymburne thus appeared to be a strong prospect for the 1936 Garmisch-Partenkirchen Olympics, but it was not to be. Although some sources claimed that he qualified for these Games, in actuality he suffered a severe head injury while skiing in 1935 and never competed again. Although he returned to his career as a fireman, he never truly recovered and, according to the book Powder Pioneers:
"He is reported to have wandered off into the woods many years later and his body was never found."
Thus, unlike all of our other Olympic Mysteries, precise information about Lymburne's death is not just unknown to us, but it appears to be unknown to anyone. We do not know the origins of this story – the earliest version we could locate was in Powder Pioneers, written in 2005, and thus we do not even know when his disappearance is alleged to have occurred (some sources state 1936, although he seems to have been still alive after that) or which woods he vanished in (as he worked for the Canadian Pacific Railway, it cannot even be assumed that it was in British Columbia). We have been waiting to regain our access to Newspapers.com, but it has not been forthcoming, and we wanted to get this blog post out today. We may, therefore, have an update on this story later this week if we are able to uncover more through a search of their news archives. For the time being, however, it remains a true Olympic Mystery.