To keep up our momentum of blog posting, today on Oldest Olympians we wanted to look at boxers from the 1936 Berlin Olympics who did not start in their events. As non-starters, we often know less about these athletes than others, so we wanted to feature a few in this post to see if we can bring their contributions to the world of sport to greater light.
Three of the seven individuals that we are covering were members of the Peruvian delegation. Pedro Rodríguez did not start as a flyweight, and his name is so common that we have been unable to uncover any additional information about him. This is also the case for Máximo Valdez, who did not start the featherweight competition. Finally, Zacarías Flores was entered into the welterweight division, but did not compete. Flores turned professional after the Games and contested bouts through 1945, amassing a known record of 5-13-0. We do not, however, have any biographical details on him.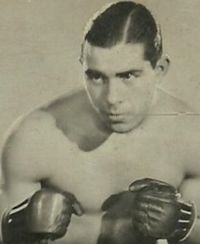 (José Llobera, pictured at BoxRec)
In that same division, Spain's Antonio Zúñiga was also a non-starter. Zúñiga was the Spanish national welterweight champion in 1934 and 1935, and he had his first professional bout in 1939. In a career that lasted through 1942, he had a record of 11-5-1. José Llobera, whose surname is also seen as Llovera, was Spain's entry in the featherweight division and he turned professional at the end of 1936. By his last bout in 1947, he had amassed a record of 40-10-2 and become fairly well-known, yet we were unable to uncover his biographical data.
In the lightweight division, José Portillo was one of two non-starters for Spain, the other being the better-known José García Álvarez. While we have biographical data on García, we know nothing about Portillo. Finally, Paulino Rodríguez, who did not start in the middleweight division, was from Irún and was 19 at the time of the Games. Although it is possible that he is alive, he is most likely deceased, although we do not know when.
While we are on the topic of Spanish-speaking nations, we wanted to thank Hernan Macchiavello, who discovered that Argentine cyclist Héctor Acosta, who we mentioned in the last blog post, died November 1, 1973 in Rosario. Finally, in an update to a much older blog post, we were able to confirm that the Mario Astaburuaga Ariztia, who was born on July 4, 1904 and died in 1951, was the Chilean Olympic swimmer from 1928.