Two posts ago on Oldest Olympians, we began looking into the topic of Olympians from the 1928 Amsterdam Games who are missing their full names in our database. Several individuals sent in information that identified S. de Lanfranchi and Simon de Lanfranchi and L. le Cornu as Léon le Cornu. We greatly appreciate all of the submissions! In that vein, we decided to do another post on this topic, this time looking at the three Swiss competitors with missing full names, all of whom played for their country's field hockey team at these Olympics.
Switzerland is an oddity in that it is a European nation for whom we have much data missing. The Swiss field hockey team that placed joint-seventh out of nine squads at the 1928 Amsterdam Games in particular has very little biographical data; as of this writing, there is only one starting member for whom we have complete birth and death information. Four others have at least some details. Of those that remain, we know the complete names and clubs for four: Adalbert Koch of the BSC Old Boys, Maurice Magnin and Max Zumstein of Urania Genève Sport, and Roland Olivier of Servette FC.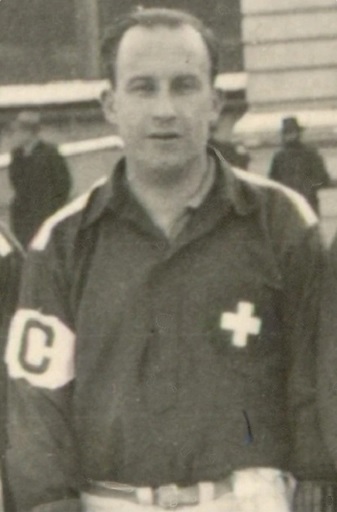 (Henri Poncet)
Of the remaining seven members, four at least have complete names: Charles Piot, Fred Jenny, Werner Fehr, and Henri Poncet. Poncet was better known as an ice hockey player with AEHC Zurich from 1921 through 1932 and played for the national team in two games at the 1929 European Championships. This brings us to our three missing names. The first, F. Fischer, played for Red Sox, Zürich, and there are two individuals with this surname active on the national team: Alfred and Beppo. Alfred would seem to be the more likely candidate, perhaps going by "Fredi" or "Freddy" Fischer, but reports on initials have known to be mistaken in the past, so Beppo remains a possibility.
For the other two, J. Loubert and R. Rodé, all the information we have on them is their clubs, Varembé and Servette respectively, and we know nothing additional about their careers. We do not have much else to add but, in addition to hoping to bring in more leads with greater attention, we hope as always that you found a few details on the lost history of the Olympics at least a little interesting and that you will join us next time for another post!