Today on Oldest Olympians we wanted to cover a case that we have talked about in the past, albeit not in depth, and share some new information that has come to light that, unfortunately, did not resolve the issue conclusively. Our subject of the day is American swimmer Eugene Roy Rogers, born February 17, 1924.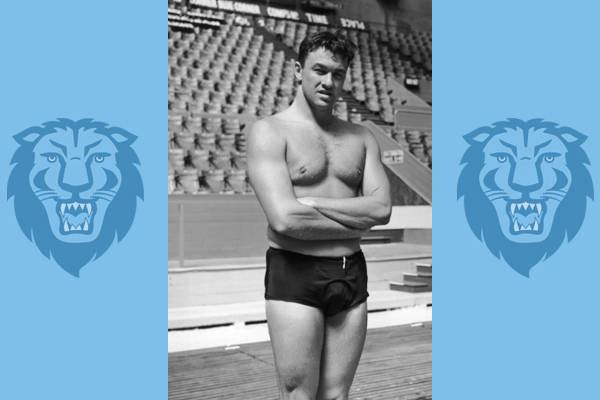 (Rogers pictured at the Columbia Lions Hall of Fame)
Rogers was a member of the American 4×200 metres freestyle relay squad that took gold at the 1948 London Olympics, although he only raced in the opening round and not in the final and thus did not receive a physical medal, per the rules at the time. He had an outstanding swimming career at Columbia University, where he earned an engineering degree, and has been inducted into their Athletics Hall of Fame. If he were alive, then he would be the oldest living Olympic champion in swimming and the oldest living American Olympic champion.
For a long time, Rogers was listed as having died on April 26, 2004, but multiple sources, including his own family, confirm that this was an error, and that the Eugene Rogers who died on that date was a different individual. Nonetheless, many sources continue to reproduce this mistake.
Then, in January of 2018, someone claiming to be his grandson on Wikipedia listed him as having died on December 30, 2017 in Long Island, New York. We here at Oldest Olympians are not intrinsically distrustful of Wikipedia, but since he had had an incorrect date of death attributed to him previously, we wanted to be extra careful. When we were unable to contact the user or locate an obituary, we decided against listing him as deceased and have featured him on Oldest Olympians previously as if he were living, albeit with the proper caveats. Furthermore, the United States Olympic Committee was of the belief that he was still alive.
Recently, however, researcher and historian Hilary Evans has located an Ancestry Family Tree that listed a Eugene Roy Rogers, born 1924, as having died in 2017 in Glen Cove, New York, which was where he was last known to be living. Unfortunately, there was still no corroborating, definitive proof, but it now seems likely enough that he is deceased, and therefore we have removed him from our list. Given the uncertainty, however, we felt that it was appropriate to announce this removal with a blog post to avoid creating another mysterious disappearance.
Finally, on a small side note of speaking about sudden removals, we have just learned that Geoffrey Tudor, born December 29, 1923, who represented Great Britain in the 3,000 metres steeplechase at the 1948 London Games, died October 2, 2018 at the age of 94. As this happened some time ago, we are noting this information here to explain his removal from our tables.