Today Oldest Olympians is focusing another post on a single athlete. This time we are looking into Canadian wrestler Morgan Plumb, for whom we feel we are a hair's breadth close to unlocking his entire life story, yet we cannot find the smoking gun.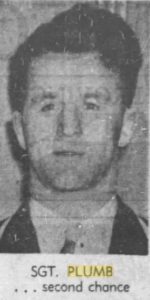 (Plumb pictured in a January 16, 1950 feature in Vancouver's "The Province")
We know a few things for certain about the Olympian, much of which comes from a feature of Royal Canadian Air Force wrestlers published on January 16, 1950 in "The Province" from Vancouver, British Columbia. He was born in 1913, likely as George Morgan Plumb, and took up wrestling at the Toronto West End YMCA in the early 1930s. He was selected to represent Canada in wrestling at the 1938 British Empire Games, having travelled to the trials at his own expense, but was later dropped from the team due to a lack of funds. He joined the RCAF at the outbreak of World War II and continued competing in military tournaments.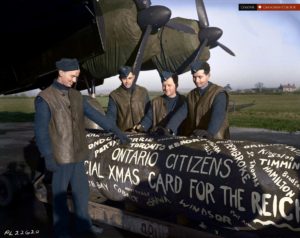 (Plumb, third from the left, during his wartime service, from Canadian Colour)
At the end of the conflict, he was chosen as Canada's freestyle lightweight wrestling representative to the 1948 London Olympics, where he was eliminated from contention in the third round. He then represented Canada at the 1950 British Empire Games, where he won a silver medal in the same event. Prior to 1950, he had earned five Ontario provincial titles and three Canadian national ones. The January article listed his hometown as Aylmer, Ontario and noted that he had been married for six months, although it neglected to mention the name of his spouse.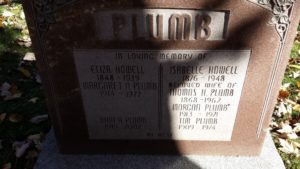 (The grave of "Morgan Plumb", who lived from 1913-1971, from Find A Grave)
Ancestry.com lists a George Morgan Plumb born April 12, 1913 in York, Ontario, which would align with what we know about the Olympic Morgan Plumb. From the other end of his lifespan, Find A Grave has a picture of a family grave in Prospect Cemetery, Toronto, which includes a "Morgan Plumb" who was born in 1913 and died in 1971.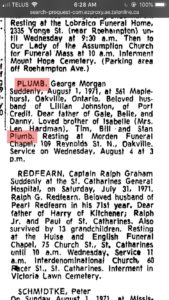 (Morgan Plumb's obituary from the Globe and Mail, August 3, 1971)
We were then thankful that frequent contributor Connor Mah forwarded us a copy of the obituary for the Morgan Plumb on the gravestone. It noted that Plumb died on August 1 in Oakville and listed the names of his children, wife, and siblings. Unfortunately, there was nothing in the obituary that could tie him conclusively to the Olympian, or even the George Morgan Plumb who had been born in York. Unable to find contact information for any of his family members or descendants, it was here that the trail finally went cold. We find it very likely that all three Morgan Plumbs are the same individual, particularly as his name is not overly common, but until we can locate some evidence that confirms this fact, this Canadian wrestler will remain an Olympic mystery.