Today on Oldest Olympians, our mystery is not very deep, and is more of a curiosity. It concerns Gijsbertus "Ben" Verhagen, born September 29, 1926, who represented the Netherlands at three editions of the Olympic sailing tournament in the Flying Dutchman class. His first outing, at the 1960 Rome Games, was his best, as he finished in fifth with veteran sailors Gerard Lautenschutz and Jaap Helder. In 1964 in Tokyo he was sixth, and in 1968 in Mexico City he was joint-17th with the Austrian team. In the latter two instances, his partner was Nico de Jong.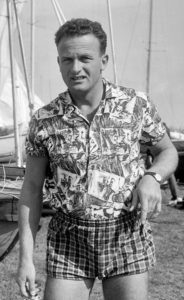 (Verhagen from the Dutch National Archives)
Verhagen was more successful at the European Championships, where he won bronze medals in the Flying Dutchman class in 1961 and 1968. He attempted to qualify for the 1976 Montreal Olympics in the Tempest class, but did not succeed. Nonetheless, he continued to race in the Soling class through the 1970s and 1980s.
Despite his lengthy career, we have been unable to confirm whether or not he is still alive, and thus since 2016 he has been on our list of "possibly living" Olympians. At the end of last month, however, we noticed that an anonymous user had added the following note to his Wikipedia page:
"Ben Verhagen 91 years old. Still alive and fit 18-1-2018"
Unfortunately, by the time we discovered this addition, over a year and a half had passed, so it seems unlikely that the author has the same IP address, let alone will respond to our inquiry. We turned, therefore, to Dutch OlyMADMen member Jeroen Heijmans, but he was unable to confirm whether the notice above was true. We have no particular reason to doubt the message's veracity but, as Wikipedia is so prone to vandalism, we cannot consider the statement above sufficient proof to list him our tables. We felt, therefore, the next best step would be to share this information with our readers in the hopes that someone may have the confirmation needed to close this question.
As a small addition to this post, however, we do have some good news. While searching through Dutch sources, we discovered that Jan Ceulemans, born January 11, 1926, who represented Belgium in basketball at the 1952 Helsinki Olympics, was still alive in 2018 at the age of 92, and we were therefore able to add him to our tables: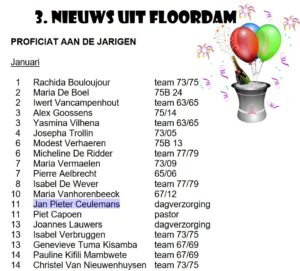 (Announcement of Jan Pieter Ceulemans' birthday)
Finally, thanks to a message left on this blog by Christian Brücher, we have learned that one of our Bronze Medal Mysteries, Swiss sailor Pierre Girard, is still alive. Girard, born August 2, 1926, represented his country in the 5.5 metres class at the 1960 Rome Olympics, where he took home a bronze medal. Thanks to Christian Brücher, we are now able to add Girard to our tables as well!