Happy 100th Birthday
Evelyn Furtsch Ojeda (USA-ATH-1932)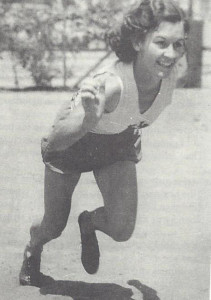 http://www.sports-reference.com/olympics/athletes/fu/evelyn-furtsch-1.html
B. 17 April 1914; San Diego, California, USA
| Year-Sport | Event | Place | Medal |
| --- | --- | --- | --- |
| 1932 Athletics | 4×100 m relay | 1 | Gold |
Evelyn Furtsch won a gold medal in the 1932 4×100 relay, running the second leg. She had not qualified for the 100 metres because both Elizabeth Wilde and Louise Stokes finished ahead of her at the Final Trials, but were not selected for the Olympics, so Furtsch, representing the Los Angeles Athletic Club, was perhaps fortunate to have won a place on the relay team for the Los Angeles Games. The only time she placed in an AAU championship was in 1931, when she finished second in the 100 yards. After the Olympics she attended Santa Ana College for two years, but there was no track team and her opportunities for training in that era were limited, so she ended her track career, competing in field hockey and basketball and then got married after her second year of college. She was elected to the Orange County Sports Hall of Fame in California in 1985 and in 1984, received the Ralph Clark Distinguished Citizen Award in Santa Ana.
As of this date, 17 April 2014, Evelyn Furtsch is the 8th oldest living Olympian (see the page http://en.wikipedia.org/wiki/User:Canadian_Paul/Olympics, by one of our compatriots, Paul Tchir). She is the 3rd oldest living American Olympian, after Walter Walsh (1948 SHO – *4 May 1907) and Simone Schaller (1932 ATH – *22 Aug 1912) (Walsh is the oldest living Olympian). She is the 2nd oldest living gold medalist, after Hungarian Sándor "Alex" Tarics (1936 WAP – *23 Sep 1913). She is the 3rd oldest living track & field Olympian – after China's Guo Jie (1936 – *16 Jan 1912) and Schaller, and the oldest living track & field gold medalist and medalist.
Evelyn Furtsch becomes one of only two US Olympic gold medalists to have survived to 100, the other being James "Babe" Rockefeller, who won gold in 1924 rowing coxed eights (alongside Benjamin Spock). She becomes one of only two US Olympic track & field medalists, and one of only four Olympic track & field medalists (all nations) to have survived to 100, joining the following: Herman Brix (USA – 1928 shot put), Godfrey Rampling (GBR – 1932 and 1936 4×400), and Edvin Wide (SWE – 5 medals from 1920-28). She joins Godfrey Rampling as the only Olympic track & field gold medalists to survive to 100, Rampling winning gold in the 1936 4×400 relay.
Personal Best: 100 – 12.2 (1932)