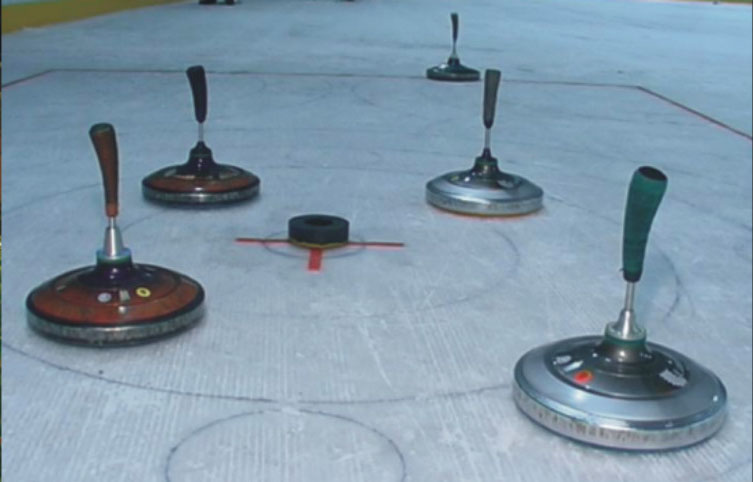 Today on Oldest Olympians, we wanted to take a quick peek at a sport that, at least in the English-speaking world, is little known, but has twice appeared at the Games as a demonstration event: Eisstockschießen, translated into English as ice stock sport. There are two main variants of the game, but the procedure is similar to curling in both instances: sliding a rock (in this case, known as an ice stock) across the ice towards a specific goal. In target shooting, the objective is to get as close to the target as possible. In distance shooting, the objective is to throw the ice stock as far as possible. It was played as a demonstration sport at both the 1936 and 1964 Winter Olympics.
As you might imagine, our interest lies primarily in the former tournament. Given the obscurity of the sport, at least in English-speaking countries, there is not a lot of information on most of the competitors, not even dates of birth. This means that the majority of the participants are listed on our list of "possibly living alternates and demonstration event competitors". While we have been able to eliminate a handful of them as being still living, either based on precise information that we have found or dates of previous competition that are too early for them to still be alive, the possibility that some of these players are still with us is not outside the realm of possibility. In fact, there are well over 100 of them on our list, from three different countries: Austria, Czechoslovakia, and Germany.
In terms of why we are blogging about this, there is always the importance of  broadening the search for obscure information so that we may be able to find somehow who can help cross off a few names. There are, for example, some Olympic missing links. The website for Eisstock-Club Bad Reichenhall, for example, lists a Kaspar Knoll as being born on June 11, 1920 and dying on May 5, 2007. A Kaspar Knoll also participated in the 1936 Games for the same club, and while this might seem a bit young for an Olympian, the age range for this sport is quite large, just as it is in curling. On the other end of the age scale, the Olympian Matthäus Maucher might be this man, who died in 1957, both of whom have connections to Oberstdorf. We cannot even be certain of the spelling of names; a Helmut Müller-Leuthert supposedly participated in 1936 with Gießener Eisverein. Is he actually Helmut Müller-Leutert, an artist who was born and died in Giessen and lived from September 15, 1892 to December 5, 1973, who otherwise has no known connection to the sport?
More importantly, however, we wanted to shed some light on this obscure piece of Olympic history to remind our readers that there is nothing that we take for granted. It might seem unnecessary to keep track of demonstration sport competitors who are almost certainly deceased, but we find it important to perform our due diligence in this regard and stand behind the accuracy of our data. An individual's contribution to the Olympic movement, no matter how small, is always worth noting, particularly if they are a living link to an almost forgotten past.