Today on Oldest Olympians we wanted to take a look at Olympic mysteries from a country that does not get much attention often: Guyana. We were inspired to make this post partially by the fact that one of the nation's weightlifters, Winston McArthur, would have turned 90 on January 1 if he were still alive, but we were unable to locate any additional information on him. Then, Connor Mah pointed out several more cases, and we decided to make a quick post showcasing some of the country's athletes.
Laddie Lewis – Guyana's lone cyclist at the 1948 London Olympics
Laddie Lewis, born in 1915, was the sole cyclist among Guyana's four-man inaugural delegation to the Olympics in 1948. In track cycling, he placed 21st and last in the time trial and was eliminated in the round one repêchage of the sprint. He also competed in the road race, but did not finish. His real name was Lionel F. Lewis and we have confirmed that he is deceased; however, we have been able to uncover little else about him, aside from the fact that he was the stepfather of Guyanese politician Lindley Geborde.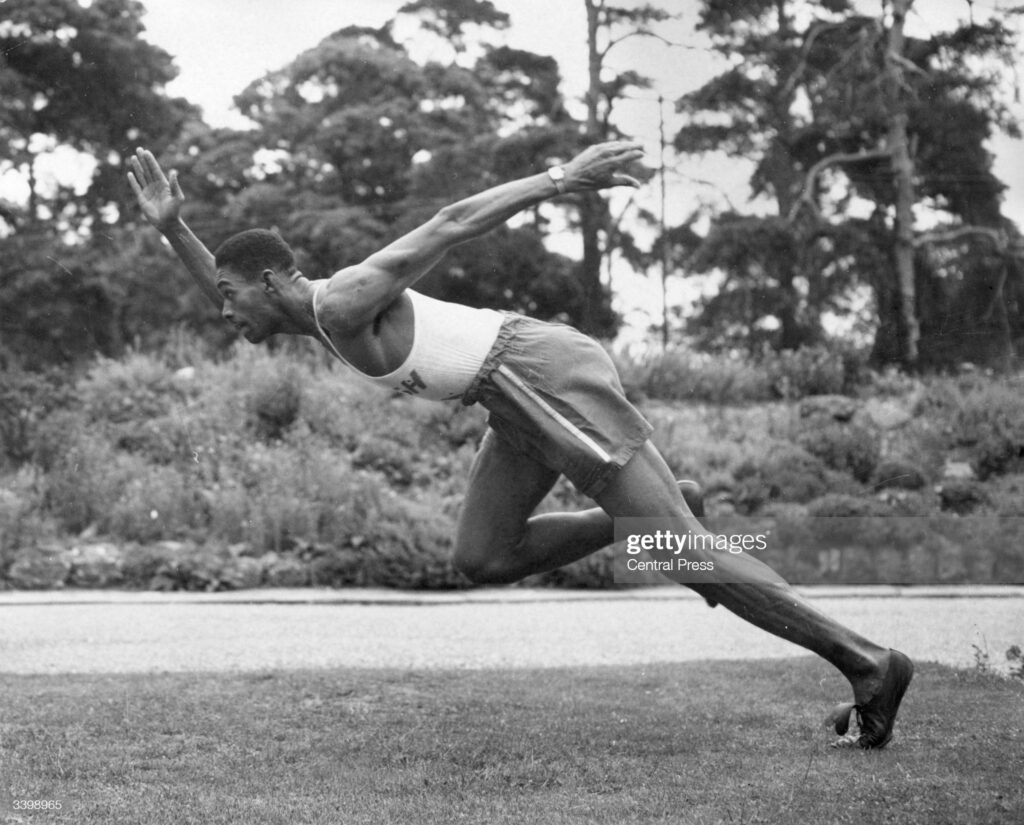 (Charles Thompson, pictured at Getty Images)
Charles Thompson – Guyana's lone track and field athlete at the 1948 London Olympics
Charles Thompson, born in 1921, represented Guyana in two events at the 1948 London Games, being eliminated in the first round of both the 100 metres and the long jump. He was also entered in the triple jump, but did not start. He may have lived in St. Lucia at some point, but unfortunately we know nothing else about his personal life or career.
Cecil Moore – Lone Olympian from Guyana at the 1952 Helsinki Olympics
Cecil Moore, born November 1, 1929, represented Guyana in the light-heavyweight weightlifting event at the 1952 Helsinki Games, where he placed 17th. Unfortunately, we know of no other results for him, nor any other details of his life.
Michael Swain – Member of Guyana's weightlifting delegation to the 1956 Melbourne Olympics
Michael Swain, born in 1933, represented Guyana in the bantamweight weightlifting tournament at the 1956 Melbourne Games, where he placed joint-13th. He was also fourth in that event at the 1958 British Empire and Commonwealth Games. Connor Mah has found a potential missing link in an individual of this name who was born February 14, 1933 in Georgetown, Guyana and died October 15, 1978 in Alameda, California. Unfortunately, we have been unable to confirm if this was the Olympian.
That is all we have for today but, before we depart, we wanted to provide an update on two of the Olympians we listed as having last been heard from in 2011. We want to thank Vesa Tikander for confirming that Finnish marathoner Eino Oksanen is still alive at the age of 90. We also want to thank Ralf Regnitter who verified that Swiss sport shooter Erwin Vogt is also still at the age of 90.