Today on Oldest Olympians we are going to complete our examination of competitors from the 1928 Amsterdam Games without dates of birth or death by looking into Romania. Specifically, there are four track and field athletes who are almost certainly deceased, but could in theory still be living.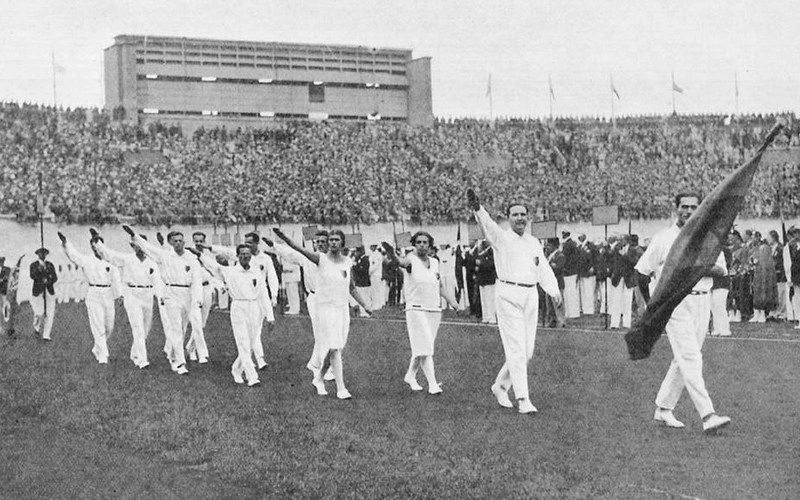 (The 1928 Amsterdam Olympic delegation from Romania, pictured at the Romanian Olympic Committee)
The lone woman among the quartet is Irina Orendi of Olimpia Brașov, who was 20th and last in the qualifying round and thus did not advance. Tiberiu Rusu, meanwhile, took part in the men's high jump and placed joint-28th (with, among others, Otto Schop(p), another Romanian Olympic mystery, but one who was active as early as 1926), also failing to qualify. Schop and Risu were also reserves with the 4×100 metres relay squad that did not start the competition. The other two were Ion Haidu, spelled "Hajdu" in Romanian sources, and Otto Rottman(n). Haidu, who failed to complete the decathlon, represented several clubs in Brașov, while Rottman, who was 27th in the qualifying round of the javelin throw, was another member of Olimpia Brașov and active until at least 1935.
With these names, prewar Romanian Olympic mysteries have been largely covered on this blog. The only remaining individuals who are missing all of their biographical data are three members of the Romania 1 four-man bobsled team from the 1936 Garmisch-Partenkirchen Games that did not start the competition: Emil Angelescu, Teodor Popescu, and Alexandru Tăutu. Angelescu and Popescu were members of the squad that won silver in the four-man at the 1934 World Championships, and since every other member of the Romanian four-man bobsledding delegation to the 1936 Olympics was born in the 1900s decade, we assume that the three for whom we do not have dates of birth are deceased.
Finally, thanks to research from Connor Mah, we have one more Romanian Olympic mystery of a different stripe. We knew that Alexandru Dan, who competed at the 1936 Berlin Games, was born July 26, 1907, but Mah's research has uncovered the fact that Dan died in 2007, thus potentially making him a centenarian. Unfortunately, we have been unable to ascertain an exact date of death to confirm this.