Today we are continuing our look into Olympians for whom we believe to have identified their date of death but, for whatever reason, we are unable to connect the information, such as obituary or public record, conclusively to the athlete. This week, we are looking into Switzerland, a nation that, like Austria last week, happens to have three mysteries left for us to discuss, and is a country that we have mentioned in the past as having Olympians about whom it can be surprisingly difficult to locate information.
Roger Rubini – Member of Switzerland's weightlifting delegation to the 1948 and 1952 Summer Olympics
Roger Rubini, born January 25, 1920, represented Switzerland in middleweight and lightweight weightlifting at the 1948 and 1952 Summer Olympics, finishing well off the podium both times. He had more luck as a lightweight at the 1951 European Championships, where he earned a bronze medal. Years ago, we came across an obituary for a Roger Rubini who died in Switzerland in August 2007 but, without further collaborating information, we have only been able to speculate as to whether this was the Olympian.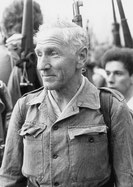 (Pictured at waffenlauf.ch)
Hans Frischknecht – Member of Switzerland's marathon team at the 1948 London Olympics
Hans Frischknecht, born December 31, 1922, was one of Switzerland's top marathon runners during the 1950s, but his only Olympic appearance came at the 1948 London Games, where he failed to complete the race. He was also selected for the 1952 Helsinki Olympics, but did not actually participate. At home, he won eight national championships between the marathon and the 10,000 metres, set several national records, and was elected Swiss Sportsman of the Year in 1955. He did not retire fully until 1975. Despite how well-known he was, we have found no definite indication of his death, just a brief notice that someone with his name and of the correct age died in 2001.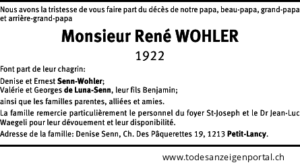 (Obituary at todesanzeigenportal.ch)
René Wohler – Member of Switzerland's basketball squad at the 1952 Helsinki Olympics
René Wohler, born September 4, 1922, represented Switzerland at the basketball tournament at the 1952 Helsinki Olympics, where the nation was eliminated in the qualifying round. He also took part in the 1946 and 1951 editions of EuroBasket, while domestically he suited up for Servette FC. Outside of basketball, we came across an obituary for a man of the same name, born in 1922, who died in January 2017, but with no corroborating details that would help us identify him definitively as the Olympian.
In terms of updates on Olympians that we have already discussed on this blog, we have learned, thanks to submissions from Connor Mah, that Canadian track and field bronze medalist Viola Myers died November 15, 1993 and Canadian equestrian Larry McGuinness was the same individual as the one who died December 27, 2017. He also suggested that the obituary we uncovered for Johnny Keller was likely not the Olympian of the same name, and that the Olympic Keller likely died in British Columbia in 1980, a lead that we will be following up. We also contacted the son of swimmer Dick Wyndham, who confirmed that the individual mentioned in the obituary we discussed was indeed in the Olympian.
That is our post for today, but we hope that you will join us next week, when we will be concluding this lengthy series by looking at the remaining Olympic mysteries that fall in this category. We hope that you will join us!