Today we are concluding our look into Olympians for whom we believe to have identified their date of death but, for whatever reason, we are unable to connect the information, such as obituary or public record, conclusively to the athlete. This week, we are looking into all the cases that remain that did not quite fit into another one of our posts.
Robert Guillin – Member of France's basketball delegation to the 1952 Helsinki Olympics
Robert Guillin, born February 15, 1926, represented France in the basketball tournament at the 1952 Helsinki Olympics, where the nation finished eighth. He had more success at Eurobasket, winning bronze medals with the team in 1951 and 1953. We uncovered a notice for a Robert Guillin who died November 11, 2013 at the age of 87, which would match up to the age of the Olympian. Unfortunately, the obituary provided no details that would help us confirm if the listed individual was indeed the basketball player.
http://www.pechbleu.com/avis-deces/monsieur-robert-guillin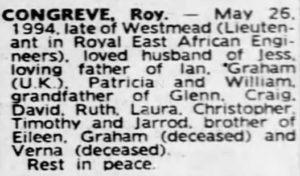 (Roy Congreve's obituary in The Sydney Morning Herald, May 28, 1994, pg. 99)
Roy Congreve – Member of Kenya's shooting delegation to the 1956 Melbourne Olympics
Roy Congreve, born April 16, 1913, represented Kenya in its inaugural appearance at the 1956 Melbourne Olympics, where he was 39th and 40th in sport shooting's rifle, three positions, 50 metres and rifle, prone, 50 metres events respectively. We are familiar with a Roy Congreve, born May 3, 1913 in Wellington, New Zealand, who had a lengthy career as a surveyor in Kenya through 1938 through at least 1956 and died May 26, 1994 in Sydney, Australia. Given his service during World War II, we are almost certain that this Roy Congreve is the Olympian, but we lack the smoking gun to make the definitive connection.
https://teara.govt.nz/en/1966/expatriates-biographies/page-16
Ghislain Delaunois – Member of Belgium's fencing delegations to the 1952 and 1956 Summer Olympics
Ghislain Delaunois, born December 20, 1923, represented Belgium in six épée and foil events between the 1952 Helsinki and 1956 Melbourne Olympics, with a best finish of joint-fifth in the team épée in 1956. He never won an international medal, and the only hints to his later life that we could uncover came from an anonymous Wikipedia edit, which claimed that he died on December 12, 1992. We have not, however, been able to confirm this as a fact.
And that's a wrap for this topic! We are deeply grateful to those who took the time out to resolve some of the mysteries we posted and who uncovered new information. Not only did we solve cases thanks to their contributions, but the research we put into deciding who would be posted helped us answer other questions that never made it to the blog. Moreover, since nothing on the internet ever disappears, we hope that for those cases that remain mysterious, our blogging will help spread our research and help new information come to the light in the near future. For next week, however, we will have to come up with a new topic for the first time in a long time, and although we are not sure yet what it will be, we hope that you will join us!