With the new year well underway, we here at Oldest Olympians felt that it was time to review those Olympians whom we believe to be still alive, but may have died unnoticed over the past year. As always, we begin with those whose last confirmation of being alive is the furthest away; in this case, three individuals who were last verified living in 2008, or over 10 years ago. Should no updated confirmation be forthcoming, we would have to remove them from our main table, and thus we decided it was best to dedicate a blog entry to them in the hopes of uncovering whether or not they are still with us.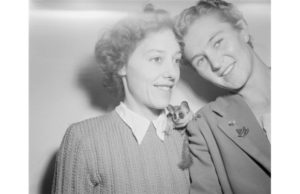 (Pictured on the left at the archives of Canada.com)
Edna Maskell – Member of South Africa's track and field delegation to the 1952 Helsinki Olympics
Edna Maskell, born April 13, 1928, represented South Africa in the 100 metres sprint and the 80 metres hurdles at the 1952 Helsinki Olympics, and was eliminated in the second round of both events, as she was recovering from an appendix operation. She had far more success representing Northern Rhodesia at the 1954 British Empire and Commonwealth Games, however, winning the 80 metres hurdles and coming in third in the 100 yards dash. She retired from active competition shortly thereafter to live a quiet life on a farm and, although a magazine did a feature on her for her 80th birthday, we have not heard anything about her since.
https://issuu.com/estatepress/docs/fc_issuu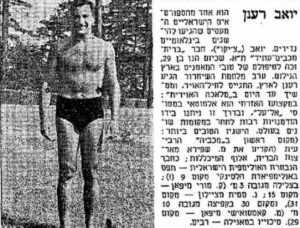 (Pictured at nostal.co.il)
Yoav Ra'anan – Israel's lone Olympic diver
Yoav Ra'anan, born January 15, 1928, is the only diver to have represented Israel at the Olympics as of 2016. At the 1952 Helsinki Games he was 9th in the springboard and 30th in the platform, while in 1956 in Melbourne he was 22nd in the springboard and carried the national flag in the opening ceremony. He was most successful internationally in-between these two editions, as he won gold in the springboard and silver in the platform at the 1954 Asian Games. There are many hints and suggestions on the internet that he is still alive, but the last definite confirmation that we received comes from 2008.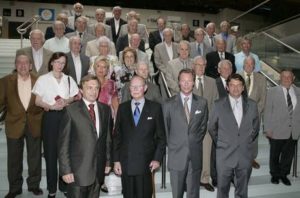 Léon Roth – Member of Luxembourg's canoe/kayak delegation to the 1952 Helsinki Olympics
Léon Roth, born September 10, 1926, represented Luxembourg in two kayak events at the 1952 Helsinki Olympics, finishing 17th in the K-1 10,000 and being eliminated in round one of the K-2 1000. In June 2008, all surviving Luxembourgish athletes who attended the 1936, 1948, 1952, and 1956 Games were awarded the Order of Merit of the Grand Duchy of Luxembourg, which was the last time we were able to confirm that Roth was still alive.
That is it for this week, but we hope that you will join us next time as we continue to blog about Olympic mysteries and explore the caveats and questions that are raised when building the most definitive list possible of the world's oldest Olympians!