Now that we have entered December, it is time at Oldest Olympians to begin to wrap our business from this year and prepare for new data in the upcoming one. Today we wanted to catch up on some of the missing links that we have encountered in 2020; these are individuals for whom we believe that we have a date of death, but cannot confirm that the information is accurate. To begin, we are going to look at five individuals where we have data that we cannot link conclusively to the Olympian.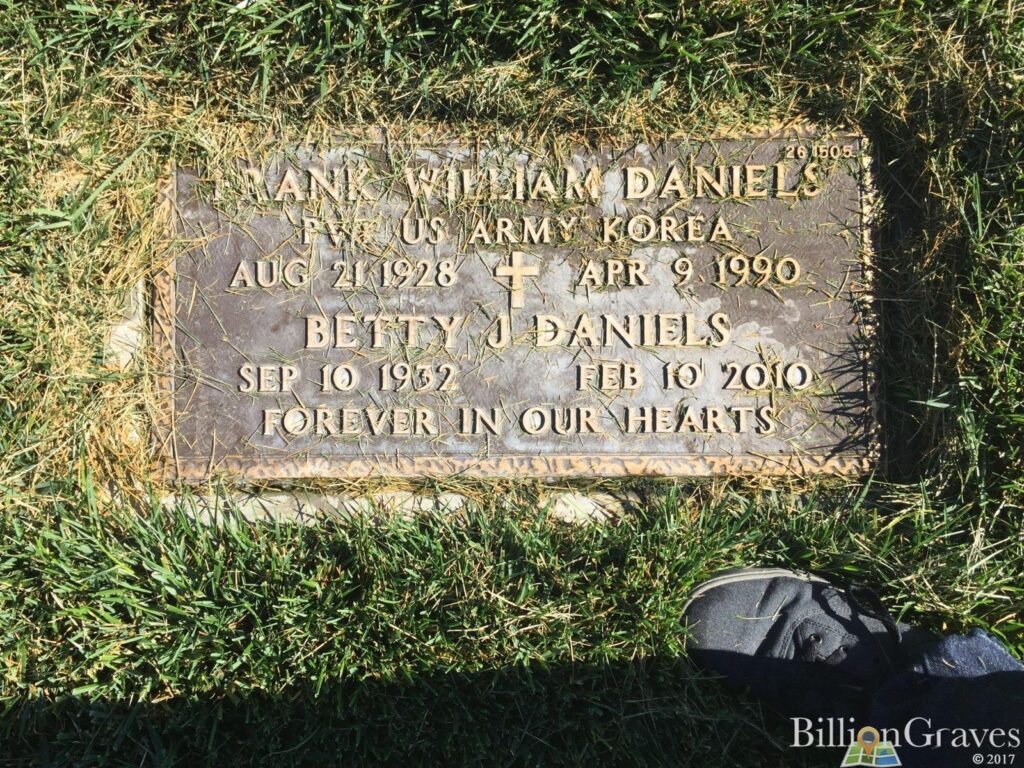 (Grave of Frank William Daniels at BillionGraves)
Frank Daniels – Alternate on the boxing delegation of the United States to the 1948 London Olympics
Frank William Daniels, born August 21, 1927, was originally from Illinois, but moved to Bakersfield, California and took up boxing as a middleweight. At the trials for the 1948 London Olympics, he was runner-up to Washington Jones and was thus selected as an alternate for the Games, although he did not ultimately compete. Given his common name and relatively low profile, we have been unable to learn much more about Daniels, but we did find a grave in Riverside, California for a Frank William Daniels, born August 21, 1928, who died April 9, 1990. While we suspect strongly that this is the boxer, we have been unable to confirm it for certain.
Valdir – Member of Brazil's football squad at the 1952 Helsinki Olympics
Valdir Villas Boas, born June 3, 1925, was a member of the Brazilian football squad at the 1952 Helsinki Games that was eliminated in the quarterfinals of the tournament by Germany. Domestically, Valdir's career lasted from 1947 through 1954 and included stints with Flamengo (1947-1949), Fluminense (1950), São Cristóvão (1951 and 1954), and Bonsucesso. We discovered the record in Rio de Janeiro's Civil Registration of a Waldyr Villas-Bôas who died December 15, 1981 at the age of 57, which would be one year off of the Olympian if our current birth date were correct. This seems to be a likely, if unproven, candidate for the Olympian.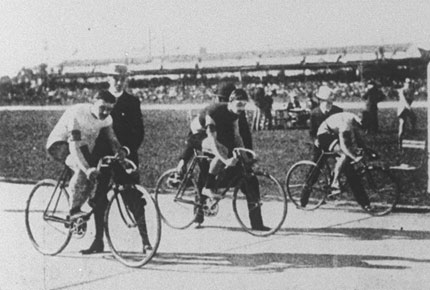 (John Lake, pictured on the far right, in the final of the sprint at the 1900 Paris Games)
John Lake – Bronze medalist in cycling for the United States at the 1900 Paris Olympics
John Henry Lake, born July 27, 1877, won a bronze medal for the United States in the sprint event at the track cycling tournament of the 1900 Paris Games and also competed in the 25 kilometers race. He was a national record holder at several distances and also a bronze medalist in the sprint at the World Championships. We know that he was still alive in 1942 and living in Staten Island in New York and thus we suspect that the John Lake listed in the New York Death Index as having died March 24, 1954 is likely the Olympian. We have, however, been unable to prove this.
Orhan Adaş – Member of Turkey's fencing delegation at the 1936 Berlin Olympics
Sabre fencer Orhan Adaş, born March 15, 1916, represented Turkey in both the individual and team events at the 1936 Berlin Games, and was eliminated in the opening round and the quarterfinals respectively. He continued to compete through the 1930s, but seems to have disappeared from the fencing scene after World War II. On September 21, 1984, the Turkish newspaper Milliyet published an obituary for an individual of this name, which seems a likely candidate for the fencer, although it is brief and mentions neither an age nor a sporting career.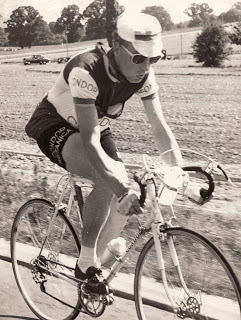 (Graham Vines, pictured at Cyclopunk)
Graham Vines – Member of the British cycling delegation to the 1952 Helsinki Olympics
Graham Joseph Vines, born October 9, 1930, represented Great Britain in the road race at the 1952 Helsinki Games, finishing 31st individually and 11th with the national team. Vines had a successful cycling career in the 1950s, winning the national road championship as an amateur in 1952 and as a professional in 1955. He is also seen with a year of birth of 1932, and the England and Wales Death Index lists a Graham Joseph Vines as having died on March 10, 2019. Without an obituary to back up this entry, however, we are unable to confirm that it belongs to the cyclist.
Finally, we wanted to conclude with a few updates to previous blog entries. Research by Connor Mah and Rob Gilmore has confirmed that the California Death Index record for Alfred Stefani, born August 28, 1926 and died October 2, 1992, was indeed the Canadian rowing Olympian. The son of Olympic swimmer Jackie LaVine, meanwhile, confirmed that his mother was still alive as of September 2020. Finally, we heard from no less than Australian Olympian Trevor Vincent that Dave "The Flying Milkman" Stephens, one of our recent Australian Olympic mysteries, is still alive. In a few days, we will be continuing our look into these miscellaneous Olympic missing links by looking at a handful of Olympians who were declared deceased on Wikipedia, but nowhere else. We hope that you will join us!