An Olympic committee for South Vietnam was recognized in 1952 and, unlike its northern counterpart, it sent athletes to the Summer Games from 1952 through 1972, after which it participated only as part of a unified Vietnamese team. Today on Oldest Olympians we wanted to look into the three members from those squads for whom we are missing even a year of birth, in order to shed some light on these oft-forgotten delegations.
Trung Trung Lê and Trần Gia Thu – Member of South Vietnam's cycling delegation to the 1956 Melbourne Games
South Vietnam sent a road race team to the 1956 Melbourne Games, but as none of the competitors were able to complete the event, the squad did not place. We know that one member of the team, Ngô Thành Liêm, was born in 1926 and died in 1980. Another member of the team, Nguyễn Hw Thoa, was also born in 1926, but as we know nothing else about him, he remains on our "possibly living" list. For the other two members, we have only an approximation for the year of birth. Trung Trung Lê was likely born c. 1928, which would place him among the Oldest Olympians were he still alive. Trần Gia Thu, on the other hand, was born c. 1934, which would make him slightly too young, but without any additional information on the lives of these individuals, we cannot say anything further.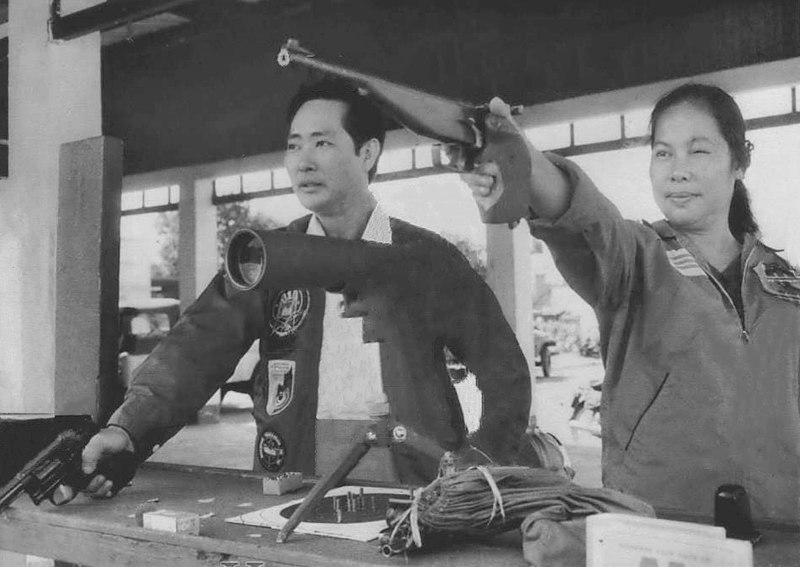 (Vũ and Hương at the 1972 Munich Olympics)
Hương Hoàng Thi – Member of South Vietnam's sport shooting delegation to the 1972 Munich Games
Hương Hoàng Thi represented South Vietnam in the free pistol, 50 metres event at the 1972 Munich Games, where she placed 56th out of 59 entrants. We do not have even an approximation for her year of birth, but we do know that he was married to another competitor, Vũ Văn Danh, born April 17, 1926, who is on our list of "possibly living" Olympians. It is likely that she is of a similar age, and therefore possibly among the Oldest Olympians were she still alive.
While there are many Vietnamese Olympians for whom we are missing data, we will stop here for today, because we also want to share a few updates. Firstly, we wanted to thank the family of Australian athlete Ted Allsopp, born August 15, 1926, who confirmed that he is still alive at the age of 95! We were also able to solve some of our Olympic medal mysteries, largely due to the help of Connor Mah. Enrico Perucconi, born January 4, 1925, who won a bronze medal with the Italian 4×100 metres relay team at the 1948 London Games, was still alive when we covered him on our blog, but he unfortunately died July 15, 2020 at the age of 95. Raymond Robinson, born September 3, 1929, who won two cycling medals for South Africa at the 1952 Helsinki Olympics, died January 4, 2018. Argentine boxers Francisco Risiglione and Eladio Herrera, who won bronze medals in boxing at the 1936 Berlin and 1952 Helsinki Games respectively, died July 28, 1999 and November 25, 2014 respectively. Finally, Mah was able to find evidence that French bronze medal-winning cyclist Roland Bezamat, born May 26, 1928, was still alive at least in 2012, which means for now he remains on our list of living Olympians.