Today on Oldest Olympians we wanted to address a topic that we have not engaged in a while: a classic Olympic missing links post. These are individuals for whom we believe that we have a date of death, but cannot confirm that the information is accurate or connect it to the Olympian with certainty. We have accumulated many such cases over the last months and today we are going to feature five of them.
Arquímedes Arrieta – Member of Uruguay's boxing delegation to the 1936 Berlin Olympics
Arquímedes Arrieta, born May 1, 1918, represented Uruguay in the featherweight boxing tournament at the 1936 Berlin Games, where he won his first-round bout against Sajiro Miyama of Japan, before losing to Great Britain's Jack Treadaway in round two. According to Uruguay's Civil Registration Index, an individual by this name died in 1937 in Montevideo. Unfortunately, there is no additional corroborating evidence (such as an age) to help prove that this was the Olympian, although we were unable to find any activity for the boxer after the Berlin Games, which makes it possible that the deceased individual and the Olympian were one and the same.
Tomás Vilanova – Member of El Salvador's shooting delegation to the 1968 Mexico City Olympics
Tomás Vilanova, born January 18, 1925, represented El Salvador in two events at the 1968 Mexico City Games, coming in 49th in the rapid-fire pistol, 25 metres competition and 74th in the small-bore rifle, prone, 50 metres tournament. He had more success at the 1950 Central American and Caribbean Games, where he captured one gold and one silver medal. We uncovered an announcement in tribute to a Tomás Vilanova Mayorga that suggests he died c. July 2007. Unfortunately, because we do not have enough information about the Olympian, we cannot connect him for certain to this notice, even though his full name is relatively uncommon.
Kamil Gampe – Member of Czechoslovakia's modern pentathlon delegation to the 1928 Amsterdam Olympics
Kamil Gampe was one of three individuals to represent Czechoslovakia in the modern pentathlon at the 1928 Amsterdam Games, where he finished 35th and last. Although he has a name that is not common, we have been unable to find any additional information about him. The only reference to a Kamil Gampe outside of the Olympic context is to the son of Czech actress Milada Gampeová. Her son was born in 1903 and died in 1968, which would make him a candidate for the Olympian. Unfortunately, we have not been able to connect him to the Olympian or find any other information about him.
John Read – Member of Great Britain's bobsleigh delegation to the 1956 Cortina d'Ampezzo Olympics
John Read, born February 27, 1926, represented Great Britain in the four-man bobsledding event at the 1956 Cortina d'Ampezzo Games, where his squad placed 17th out of 21 total entrants. Like many bobsledders, information on Read is scarce, which is not helped by his relatively common name. There is an entry in the England and Wales Death Registration Index for a John Sidney Read who was born on the same day in Salisbury and whose death was registered in the second quarter of 2000. This seems very likely to be the Olympian but, without further confirmation, we cannot be certain.
Albert Piaget – Member of Switzerland's field hockey team at the 1960 Rome Olympics
Albert Piaget, born April 13, 1928, represented Switzerland in the field hockey tournament at the 1960 Rome Olympics, where his country placed 15th out of the 16 entered teams. Domestically, he was a member of Urania Genève Sport. We found a (now-removed) obituary for an Albert Piaget who died in October 2009 and would have been the same age as the Olympian. Unfortunately, there was insufficient information to make the connection.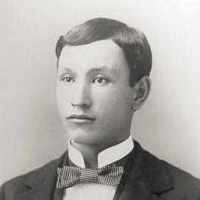 Finally, based off of some tips from Connor Mah, we were able to uncover the life story of one of the 1904 Mohawk Indian lacrosse team: Almighty Voice. Almighty Voice, also known as Jacob Jamieson or Jimerson, was born February 19, 1873 on the Cattaraugus Reservation in New York and died August 15, 1960 in Coldspring, New York. He had an extensive sporting career in his youth and was well-known at the Carlisle Indian School. We were also able to locate his photograph, which is presented above.