The last time that we discussed eisstockschießen, or "ice stock sport", at the 1936 Garmisch-Partenkirchen Olympics on this blog, we brought up the lesser-known women who participated in the tournament. Today, we wanted to highlight the non-German teams that took part in the competition.
There were three events open to international competitors at Games – target shooting, distance shooting, and a team tournament – all of which were for men and all of which were won by Austrians. Ignaz Reiterer of Graz captured the target title well ahead of the rest of the field with 15 points. Two of his compatriots, Franz Lawugger and Josef Kalkschmid, shared a four-way tie for second, alongside August Brunner of Germany and Karl Wolfinger of Czechoslovakia. Reiterer did not compete in any other event, placing him in the company of German Hans Moser, Austrian Josef Marx, and Czechoslovakian Friedrich Czernich.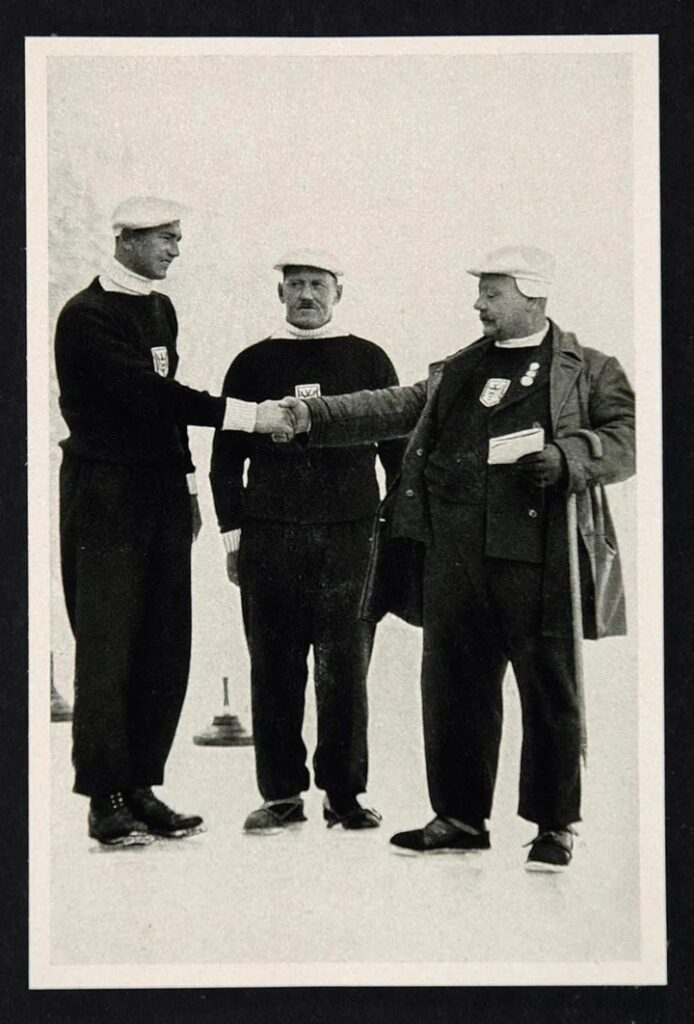 (Georg Edenhauser (left) and Friedrich Mosshammer (right))
The winner in the distance event was Georg Edenhauser, who was also relatively dominant. Second was his compatriot Friedrich Mosshammer, while third was Ludwig Retzer of Germany. Like Reiterer, Edenhauser and Mosshammer did not compete in other events, nor did their teammates Anton Schaffernak and August Ischepp, or Czechoslovakian Wilhelm Feistner.
The squad from Tirol, which consisted of Wilhelm Silbermayr, Anton and Otto Ritzl (whose relationship, if any, is unknown), Wilhelm Pichler, and Rudolf Rainer won the team tournament. Austrians also took third place with the Steiermark squad of Josef Hödl-Schlehofer, Johann Mrakitsch, Rudolf Wagner, Friedrich Schieg, and Hubert Lödler. A third Austrian team, from Kärnten, made up of Josef Hafner, Isidor Waitschacher, Josef Kleewein, Paul Begrusch, and Josef Maierbrugger, placed sixth.
The two Czechoslovakian teams, meanwhile, did not fare as well. Wolfinger teamed with Friedrich Brave, Friedrich Feistner, and Friedrich Arnhold to place seventh. Eight and last, meanwhile, went to Hans Bernhardt, Rudolf Kopal, Hans Großmann, Alfred Hein, and Otto Hanff. Unfortunately we know nothing of all of these competitors, but we hope that one day we will discover more about their lives and their contributions to the Olympic movement.