Today on Oldest Olympians, we wanted to cover a few British mysteries from the 1920 Antwerp Olympics that were forwarded to us by Connor Mah. As you can imagine, there is not much information on these cases, but we wanted to share them in the hopes that perhaps someone out there can identify these individuals.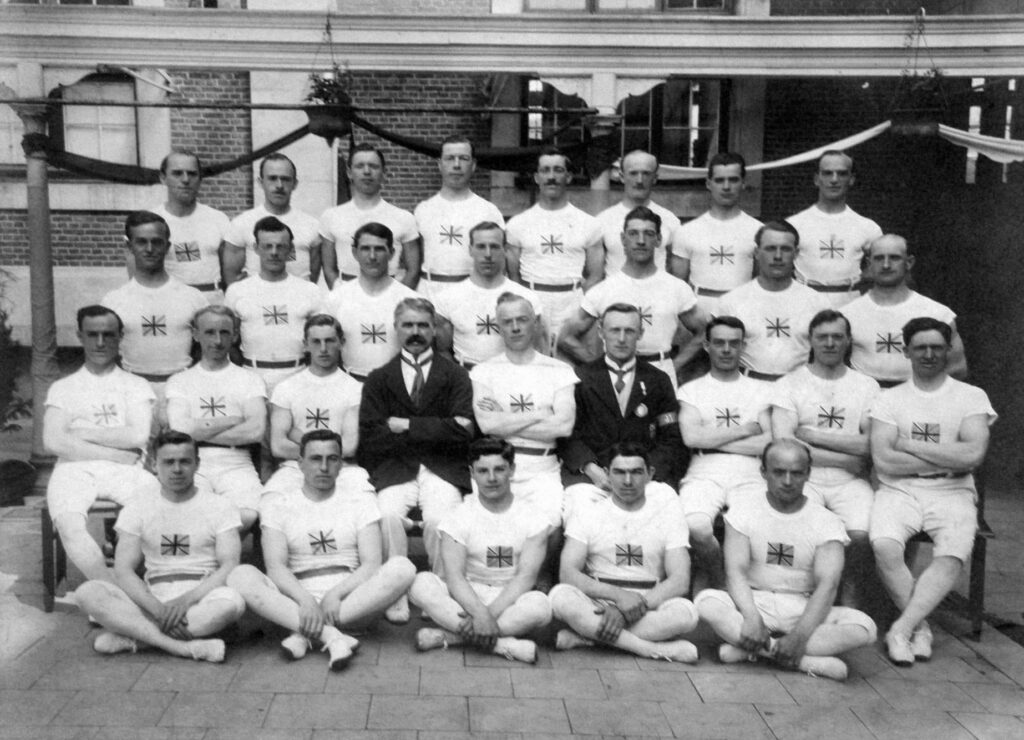 (The 1920 British Olympic gymnastics squad: Harris is third from the left in the back row, Page is first on the left on the second row down, and Taylor is second from the left in the front, seated row)
Three of the individuals were members of the gymnastic team that came fifth and last in the tournament: A. E. Page, H. W. Taylor, and J. Harris. A possibly candidate for Page is Alfred Elliot Page, born January 20, 1892 and died in January 1980, as he was from Ipswich, which would align with his club of the East Anglian Amateur Gymnastics Association, but we cannot verify this. Unfortunately, Taylor and Harris have names that are far too common to have even suggested candidates, although we do know that Taylor was a reserve with the Northampton Polytechnic Institute that won the Adams Shield in 1925.
For the other three, we at least have full names, although featherweight boxer Fred Adams was generally referred to only as "F Adams" or "F. T. Adams", so we cannot be certain that his name is accurate. He competed in the national championships for the entirety of the 1920s, although he never won a title. At the 1920 Antwerp Olympics, he was eliminated in round two. Non-finishing road cyclist Edward Newell, meanwhile, might have been Edward Albert Newell, born September 28, 1901 and died in 1978, although we cannot be certain because the only other information that we have on his career is that he was a reserve with the English team at the inaugural 1921 World Championships. Finally, George F. Piper, who was 29th in the marathon, had an extensive career that lasted over two decades, and he might have been George Frederick Piper, born September 5, 1883 and died December 1966 in London. We have not, however, been able to confirm this.