Today on Oldest Olympians we want to celebrate the birthday of Růžena Košťálová of Czechoslovakia, who we believe to be turning 99 as the oldest living Olympic canoeist. We have still not resolved our uncertainty from last year, however, as to whether or not that is actually the case.
Košťálová was one half of the silver medal-winning Czechoslovakian team in the Kayak Doubles, 500 metres event at the 1948 World Championships, which led to her selection to represent the country at that year's Olympic Games in the Kayak Singles, 500 metres. Although she won her heat in the opening round, she finished fifth in the final. Having already won 12 national titles in the sport, she retired from active competition shortly thereafter and eventually moved to Switzerland with her family in 1968.
We based our belief that she is still alive on this 2020 document from the Czech Olympic Committee. A comprehensive 2021 work by František Kolář, however, Encyklopedie olympioniků. Čeští a českoslovenští sportovci na olympijských hrác, lists her, on page 178, as having died in January 2013. Both sources seem very reliable, and thus it is plausible that either are mistaken, so we have continued to list her as alive, although we cannot be entirely certain. Were Košťálová deceased, however, then Cees Koch of the Netherlands, born December 30, 1925, would be the oldest living Olympic canoeist.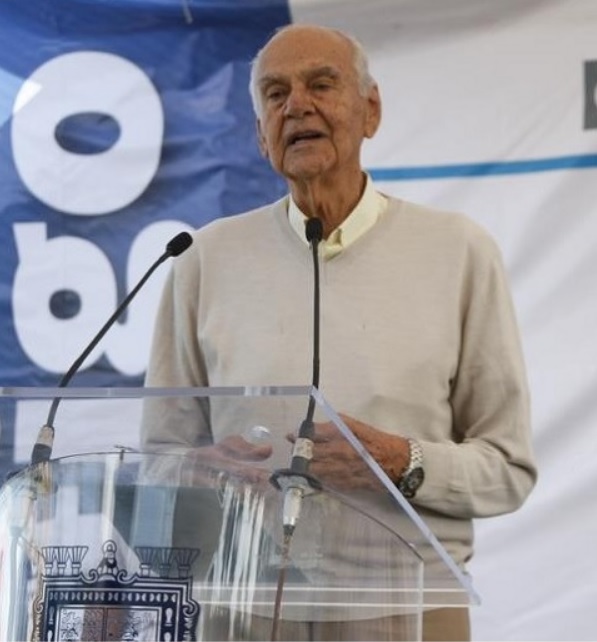 (Rojas, pictured at Gobierno De Tehuacán Puebla)
We did, however, just receive an update on an Olympian that we have covered in the past: Mexican basketball player Fernando Rojas, born August 2, 1921, did not make it to the age of 100 – he died on December 26, 2016 at the age of 95. Additionally, judoka Aurelio Chu Yi, born January 31, 1929, whom we believed to be the oldest living Panamanian Olympian, actually died July 4, 1998 and the reports of his still being alive were incorrect. Finally, we have updates on two Olympic medal mysteries: Uruguayan bronze medal-winning basketball player Ramiro Cortés, born in 1931, died April 23, 1977, while German bronze medal-winning field hockey player Günther Brennecke died February 25, 2014.