In order to catch up on our backlog of blogging, today Oldest Olympians is continuing its look into mystery competitors from the 1948 London Olympics for whom we lack both a date of birth and confirmation as to whether they are alive or deceased. Given the time that has passed, nearly all of these Olympians would be at least 90 years old, but there is a possibility that some are still alive. Today we wanted to touch upon nations who have only one such mystery competitor remaining.
The only European country on this list is Lichtenstein, as we know little about one of its 1948 decathletes, Josef Seger. At the Games, Seger retired after the discus throw, at which point he was nearly in last place. This still made him more successful than his compatriot Gebhard Büchel, born June 21, 1921, who retired earlier, and whom we last knew as living in 2013 but never located a 100th birthday announcement. Seger, meanwhile, was in London during the Games studying language when he was selected. If he was a student, then this suggests that he might have been among the younger competitors, but we have been unable to locate any concrete biographical data.
Next we have Syria's lone competitor at the 1948 London Olympics, Zouheir Shourbagi, who was 10th in the platform diving event and was also entered into the springboard, but did not start. Shourbagi later helped train swimmers and lifesavers in his home country, but unfortunately we do not have any additional biographical information on him.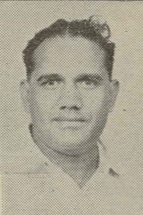 From Pakistan we have Nazar Muhammad Khan Malik, who competed in the shot put and the discus throw but was eliminated in the first round of both. He often went by just Nazar Muhammad (or Mohammed) and was a Lieutenant Colonel in the Armed forces but, aside from this, we do not know anything about him.
Finally, while on the subject of Pakistan, it seems to be relevant to talk about India, which has only two mystery competitors from 1948 that we have not covered. Sadhu Singh took part in both the 10 and 50 kilometer walks in London, being eliminated in round one and failing to complete the race respectively. Aside from the fact that he was born in Malaysia, we know nothing about him. Prahtip Mitra, meanwhile, was eliminated in round one of the 100 metres backstroke swimming event, and we have been unable to uncover any additional information about him either.