In one of our recent posts, it may have come as a surprise that there were women who participated in eisstockschießen, or "ice stock sport", at the 1936 Garmisch-Partenkirchen Olympics. Given that women were significantly underrepresented at the Games during this time, we wanted to devote a little attention to their events at this edition, even though we know almost nothing about the actual participants.
The women had only one individual event, target shooting, which judged how close to a target the competitor could get. There was no distance competition. The winner by a considerable margin was Mathilde Seyffarth of SC Riessersee; no one else could make even half her score of 27, with the runner-up being Dora Landes of Eisstock-Club Straubing coming in at 12.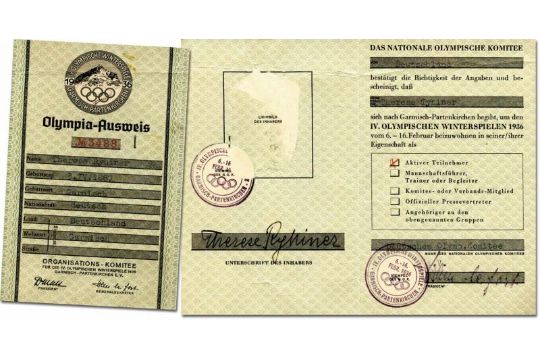 (Therese Ryhiner's 1936 identification card, pictured at The Saleroom)
In the team event, Seyffarth came in third with Therese Ryhiner, Maria Clausing, Maria Weinmüller, and Gertrud Großberger. Ryhiner is one of the few women in this sport for whom we have any certain biographical data, as her 1936 identification card came up for auction several years ago. Landes, meanwhile, was fourth in the team event with Elise Landes, Mathilde Kronfeldner, Ida Kellermann, and Ida Holzer. What relation there is between Dora and Elise Landes, or between Mathilde and men's Straubing team member Georg Kronfeldner, if any, is unknown.
We already mentioned the winner of the women's team event, Altonaer Schlittschuhläuferverein, so, for the sake of completion, the runner-up was Eissport-Club Zwiesel, a team that consisted of Frieda Dötsch, Theresia Pfeffer, Lina Strobl, Martha Weickelsdorfer, and Eva Wiede. In terms of family relations, Kurt and Max Pfeffer competed with the Zwiesel squad in the men's event, while a third Pfeffer, Karl, was with Gießener Eisverein, and was therefore probably not related. There was only one other entry, from Frankfurter Tennis-Club 1914, which finished last. Their squad included Hilde Keck, Hedwig Engelhard, Elisabeth Luchterhand, Hilde Kaiser, and Lisl Dotzert. Hilde Keck's relationship to Fritz Keck, from the men's Frankfurter team, is unknown.
As we mentioned, we know very little about most of these women. Hedwig Engelhard might be Hedwig Helene Engelhard, born February 24, 1874 and died April 3, 1963, both in Frankfurt, but we have no proof. In any case, that is enough for today, but we hope that we have drawn a little more attention to this oft-forgotten event in women's sporting history!