Today on Oldest Olympians we want to return to eisstockschießen, or "ice stock sport", at the 1936 Garmisch-Partenkirchen Olympics. Since we last posted on this topic, Ralf Regnitter has uncovered some of the biographical details of these unknown players, beginning with Therese Ryhiner. Ryhiner was one of the few that we had a full date of birth for, April 3, 1887, because we had a picture of her Olympic ID card. From this, Regnitter was able to find her date of death: September 30, 1947.
He did not stop there, however, and was able to locate biographical data for some of the individuals that we had mentioned previously on this blog: Maria Clausing, Gertrud Großberger, and Mathilde Seyffarth. Additionally, he solved a few cases that we had not yet gotten to: Ludwig Fruth, Alois Kneitinger, Lorenz Kollmannsberger, and Korbinian Witting. All the new data is viewable from the pages at Olympedia's coverage of ice stock sport in 1936.
In that spirit, we wanted to throw out a few additional names from the tournament that we have yet to cover. Kollmannsberger competed exclusively in individual events, but the other three took part in the team event as members of Eisstock-Club Partenkirchen, where they placed seventh. We are still missing data on two of their teammates: Sebastian Groeß and Josef Neuner.
Kollmannsberger, meanwhile, came in second in the distance shooting event that was limited to Germans. The winner of that event was Hans Hacker of Eisschützen-Verein Gotteszell, while third place went to Josef Wirt of Eissportverein Bad Aibling. The Bad Aibling club also came second in the German team event, with Wirt, Ludwig Retzer, Martin Geisenhofer, Josef Kreitmeier, and Josef Lechner. Gotteszell, with Hacker, Hans Hackl, August Brunner, Anton Bilmeier, and Karl Weber, settled for fourth.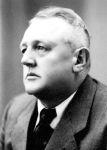 (Anton Bielmeier, pictured at Bayerischer Landtag)
Anton Bilmeier might have been Anton Bielmeier, born September 1, 1901 and died January 6, 1958, who was a politician from the same region as Gotteszell, but we have no proof. We also do not know if he is any relation to Hans Bielmeier, who represented Straubing in the international team event. For the rest of those that we have mentioned, we have no leads at all. For now, we do not want to overwhelm, so we will stop here, but we will certainly pick up this tournament again in the future!