Today on Oldest Olympians we wanted to cover an Olympian who we believe to be alive, but whose situation requires a little more than the cursory overview than we normally give to our Olympians of the Day. This will, consequently, be a short post, as well as a mystery that will probably be easily and quickly resolved but, as always, we are committed to transparency in both our research and our claims.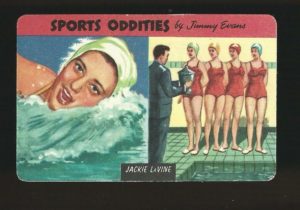 The subject of our inquiry is American swimmer Jackie LaVine, born October 4, 1929, whom we believe to have turned 90 recently. LaVine was first slated to represent the United States in the 4×100 metres freestyle relay at the 1948 London Olympics, but she remained an unused reserve in the team's gold-medal victory. On her way to the 1952 Helsinki Games, she won five national titles, a gold medal in the 4×100 metres freestyle relay at the 1951 Pan American Games, and silver in the 100 metres freestyle at the same tournament. In Helsinki, she helped the Americans take home bronze in the 4×100 metres freestyle relay.

(Mention of Jackie LaVine's marriage from the June 13, 1957 edition of the Muncie, Indiana Star Press)
LaVine continued her swimming career for a short time after earning her medal, but soon disappeared from the newspapers. The only trace of her were able to uncover was a brief mention in the Muncie, Indiana Star Press that she had married a handball player by the name of Philip Collins. This allowed us to discover that she was listed in American public records as having lived in Chicago, Illinois from August 1, 1993 through January 1, 2009 as Jacqueline Collins. A last update in 2009 is just on the edge of the range of when we would list someone as living on our tables.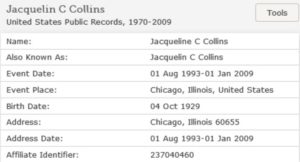 Unfortunately, even this mention is not guaranteed to be entirely accurate, as many individuals are listed as having "resided" in their last place of residence in public records for years after their death. Regardless, even with a "last known living" date of 2009, she would be slated for removal from our lists at the end of 2020 if there were to be no further update. This, therefore, is why we have turned to the Olympic Mysteries blog to reach out to our readers, as we find it likely that someone out there could solve this case rather easily. Unfortunately, names like Jacqueline, and especially Phil, Collins make it difficult for standard Google, and even broader public record, searches to be useful. At the very least, however, we hope that we have done our job of highlighting one of the oldest Olympians and bringing more clarity and nuance to the results that we produce.