Today on Oldest Olympians we wanted to expand slightly on something we mentioned previously, but into which we did not go into much detail. It concerns Italian fencer Roberto Ferrari, born August 2, 1923, who would have turned 96 earlier this month. Until recently, we had listed Ferrari as the oldest living Italian Olympic medalist, but last month we learned that he was in fact deceased. We thought, for this blog entry, that explicating our research in this regard would help provide a little insight into the process of determining whether an Olympian is alive or deceased.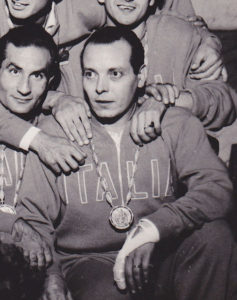 On the surface, Ferrari seems like an unlikely candidate for an Olympic mystery. He was a prolific fencer during the 1950s who won his first international title at the turn of the decade, in the team sabre event at the 1950 World Championships. His only other gold medal at the Worlds came in the team foil in 1954, but he also took team silvers in the sabre in 1951, 1953, and 1955, and the foil in 1953. At the Mediterranean Games, he won gold medals in the team sabre in 1951 and 1955, and bronze and silver in the individual tournament in those years respectively. He competed at three consecutive editions of the Olympics beginning in 1952, winning silver and bronze in the team sabre in 1952 and 1960 respectively.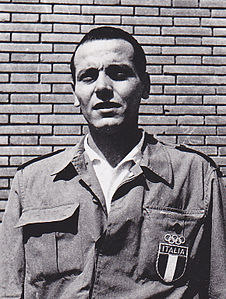 Ferrari, therefore, was not a marginal figure in the sporting world, yet the internet, even in Italian, seems bereft of information on his later life. Nonetheless, when we saw his name on a newspaper's online (now-removed) list of birthdays being celebrated in 2012, we had no reason to doubt that he had reached his 89th birthday.
After that, however, we were unable to locate any update until we were forwarded a list of Italian Olympic medalists, published in 2014, which noted that Ferrari was deceased, but did not include a date. In theory, this did not contradict the birthday list, since he could have died between 2012 and 2014, but we were nonetheless skeptical, since we assumed that an obituary for an Olympic medal-winning fencer who died in the 2010s should be easy to find. Since we had been proven wrong in this regard in the past (in the case of centenarian German alpine skier Gustav Lantschner, whose death we noticed only half a year later in a name-only listing among church funeral services), we decided to contact Italian Olympic expert Beppe Odello to see if he could confirm the information one way or another.
Odello responded quickly to let us know that Ferrari had indeed died, in Genova, but he did not have an exact date. The 2014 listing was, therefore, correct, and it remains possible that the 2012 account was mistaken, or that it had simply assumed (incorrectly) that he was still alive without researching the matter. That as notable a figure as Ferrari could die without drawing significant attention is itself an Olympic Mystery, as clearly the issue here goes beyond a language barrier, since neither the newspaper nor Odello could locate a notice of his death easily.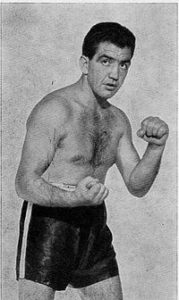 (Alessandro D'Ottavio, pictured at Boxrec)
In fact, the 2014 list noted that one of our bronze medal mysteries, boxer Alessandro D'Ottavio, born August 27, 1927, was also deceased. Despite having an Olympic medal-winning amateur career and a title-winning professional career, Odello was unable to even confirm the list's report that D'Ottavio was deceased. We often try to post here about forgotten Olympians because, as the case of Ferrari shows, no athlete, no matter how successful, can be remembered unless people put the effort in to keep their memories and accomplishments alive.